Parte 1 aquí / Part 1 Here!
Continuación:
Continuation: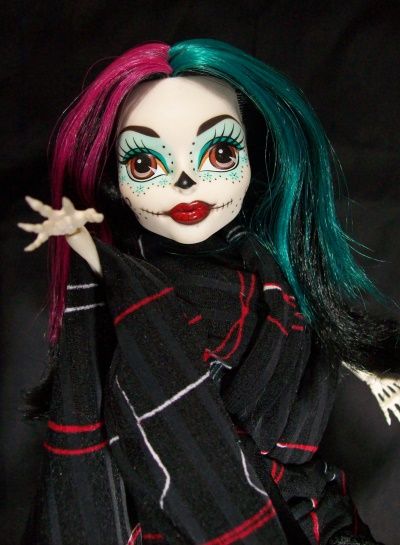 Skelita (La Muerte):- Neighthan Rot ¿Qué has hecho?
Skelita (The Death):- Neighthan Rot ¿What have you done?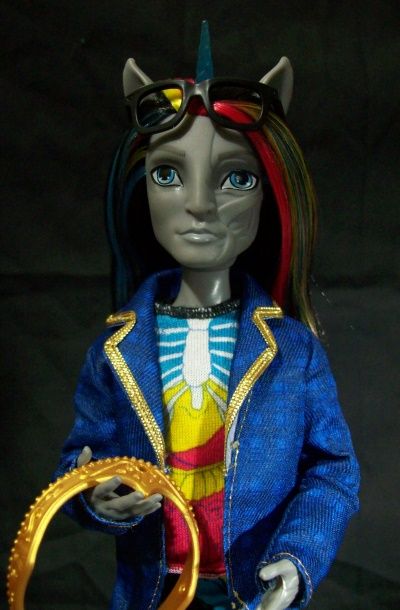 Neighthan Rot:- Yo no hice nada, sólo me comí a un príncipe.
Neighthan Rot:- I did nothing, I just ate a prince.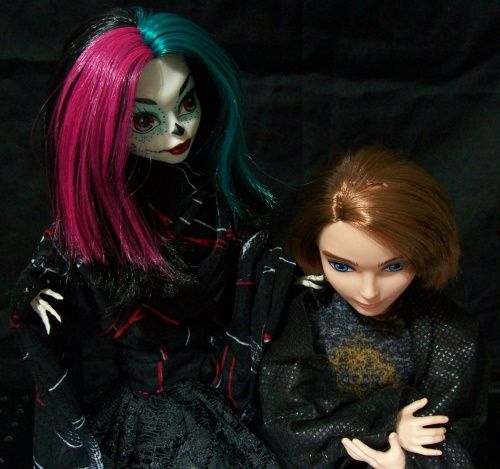 Skelita:- Por tu culpa el alma de este príncipe tiene que vagar en el limbo que separa el mundo de los vivos y los muertos.
Dexter Charming:- Hace tanto frío...
Neighthan:- ¡No fue mi culpa!!
Skelita:- Because of you this prince's soul have to wander in the limbo that separates the world of the living and the dead.
Dexter Charming:- It's so cold...
Neighthan:- ¡It wasn't my fault!!
Neighthan:- Él estaba tocando la Canción del Suicidio. Si la tocas, se supone que te estás ofreciendo como comida para cualquier criatura hambrienta que esté cerca ¿Quién sería tan estúpido como para tocar una canción sin saber lo que significa?
Skelita:- Él.
Neighthan:- Debí preguntar antes de lanzarme a su cabeza y arrancársela ¿verdad?
Skelita:- En realidad sí. Ahora su alma no puede ir al Más Allá porque lo mató un unicornio. Mientras exista una posibilidad de resucitar no descansará en paz.
Neighthan:- Sé lo que quieres decir: tengo que ofrecerle mi sangre para traerlo de vuelta a la vida.
Skelita:- Un unicornio normal moriría, pero tú eres un zombie, perder tu sangre no es gran problema para tí.
Neighthan:- Pero quedaré tan débil que no podré defenderme si el príncipe decide tomar venganza.
Skelita:- Eso no pasará, él es un príncipe de buen corazón.
Neighthan:- He was playing the Suicide Song. If you play it, it is supposed you are offering yourself as a meal for any hungry creature nearby. Who would be so stupid to play a song with no knowing its meaning?
Skelita:- Him.
Neighthan:- I had to ask before throwing myself to his head and tearing it off, Right?
Skelita:- In fact yes. Now his soul can't go to the After Life because he was killed by an unicorn. While there's a change to resuscitate he won't rest in peace.
Neighthan:- I know what you are trying to say: I have to offer my blood to him for bringing him back to life.
Skelita:- A normal unicorn will die, but you are a zombie, losing your blood is not a big deal for you.
Neighthan:- But I will end up so weak that I couldn't protect myself if the prince wants to take revenge.
Skelita:- That won't happen, he is a good hearted prince.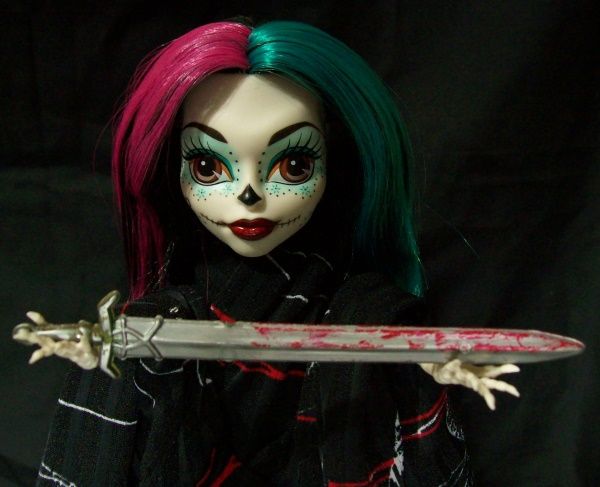 Skelita:- Neighthan, tienes el poder de arreglar este terrible error ¿aceptas?
Skelita:- Neighthan, you have the power to fix this terrible mistake. Do you accept?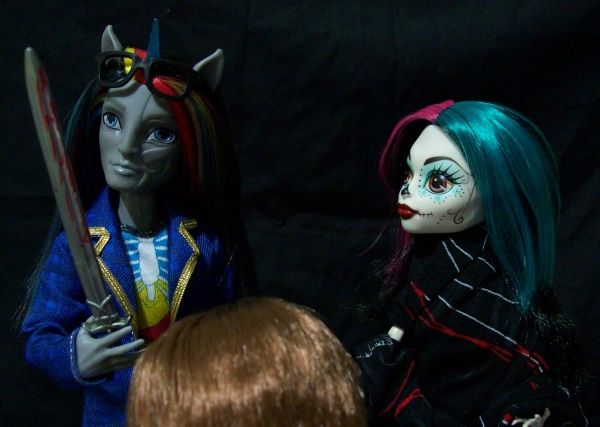 Neighthan:- mmnnn...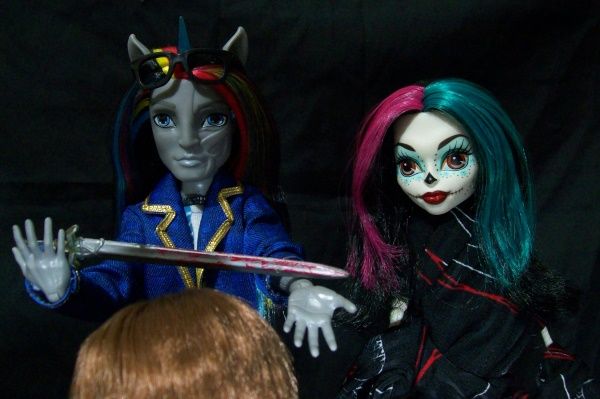 Neighthan:- Cierra los ojos y piensa en algo bonito :)
Neighthan:- Close your eyes and think in something nice :)
Current Music:

Cheb Khaled, Faudel & Rachid Taha - Bent Sahra
Mejor para tí no saber lo que le hice
a tu novio
.
Better for you not to know what I did
to your boyfriend
.
Current Mood:

Maaaybe a little too violent for the Traveling Picture Show
Current Music:

Los Abuelos de la Nada - Te Quiero Así
Here's the proof that Neighthan Rot is the coolest doll ever made. He just need a small change in his hairdo and his clothing: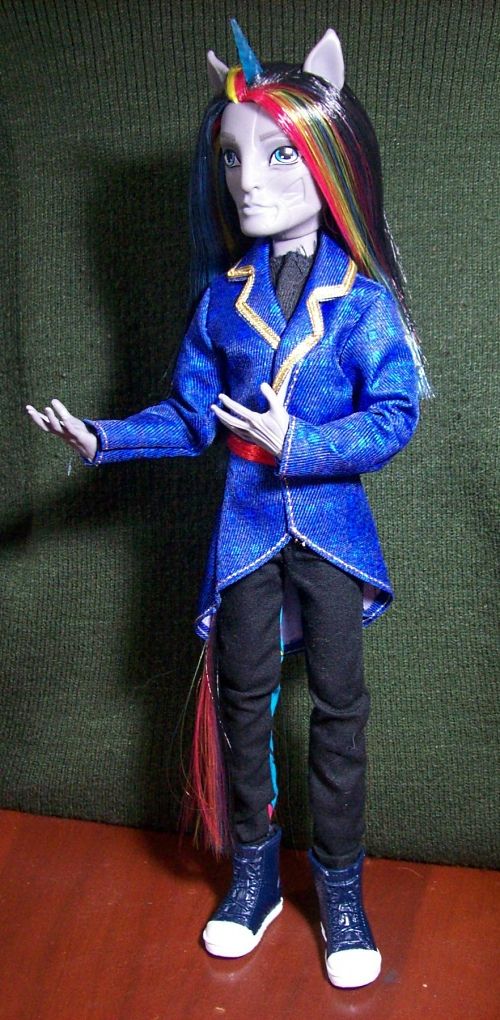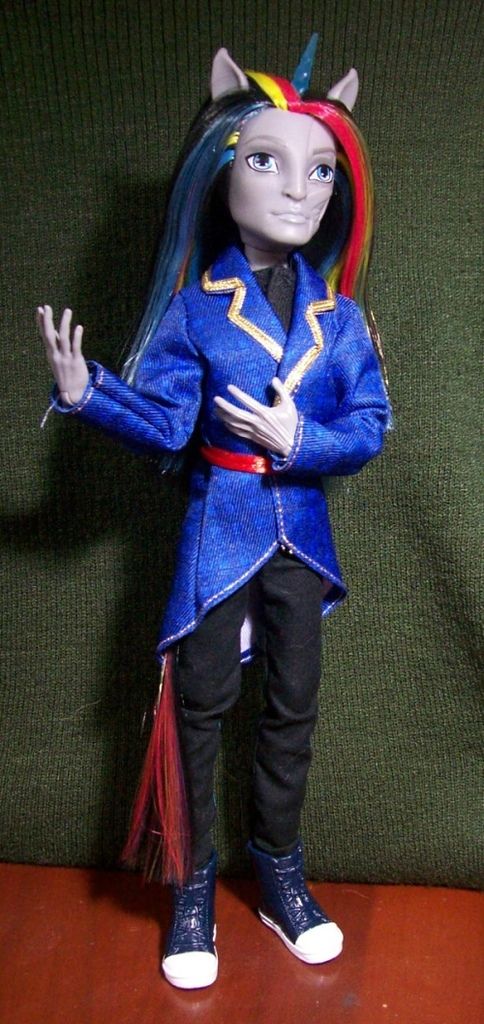 Cogí la chaqueta y los zapatos de Dexter Charming. El resto de la ropa es la original de Neighthan pero puesta al revés.
I took the jacket and shoes from Dexter Charming. The rest of the clothes are Neighthan's but put front side back.
He aquí la prueba de que Neighthan Rot es el muñeco más genial jamás fabricado. Sólo necesita un pequeño cambio de peinado y ropa:
Current Location:

Lima - Perú

Current Music:

Luc Arbogast - Sentinel (Ultimum Cantum Arborum)
And the reason why I joined Livejournal: