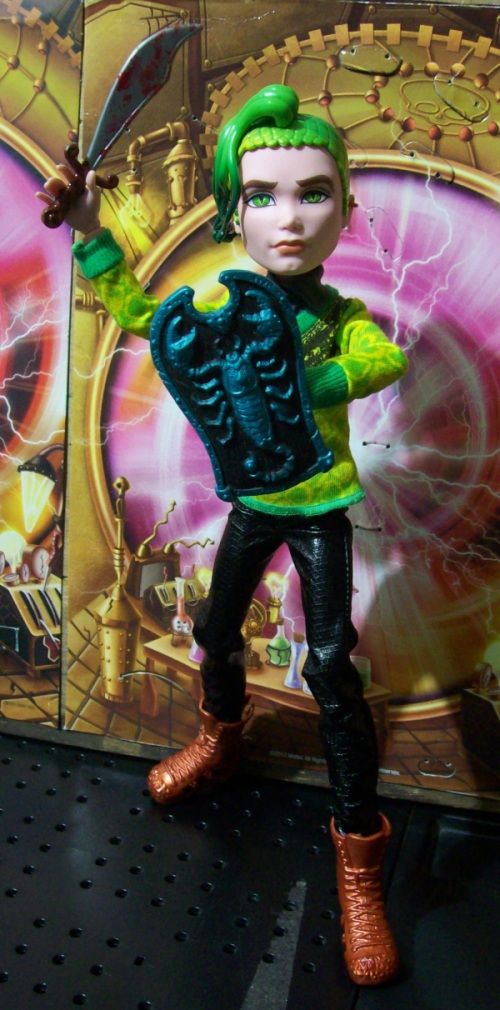 Él fue entrenado por los Antiguos
Dioses Griegos
Espíritus del Mal (eso explica su escudo) para llegar a ser el mejor guerrero sin miedo de todos... taal vez un poquito
muy sin miedo
.... algunas veces se coloca a sí mismo en situaciones en las que necesita ser rescatado, pero él nunca va a admitir eso.
He was trained by the Ancient Greek Gods Spirits of Evil (that explains his shield) to become the best fearless warrior ever... maaaybe a little too fearless... sometimes he put himself in situations he needed to be rescued, but he never will admit that.
He aquí una foto durante una de sus peleas de entrenamiento en la Literalmente Universidad Monstruo:
Here is a shot during one of his training fights at the Literal Monster University: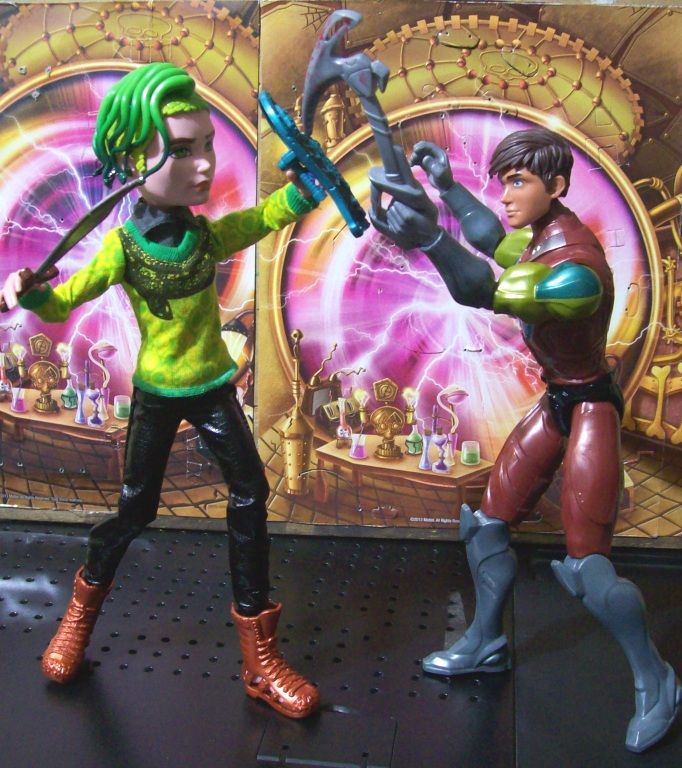 Max Steel es un robot que hizo
Zombie Daria Morgendorffer
. Ella actualizó su firmware para hacer que su voz suene natural. Como Daria está muy ocupada para darle la atención suficiente, Max se siente solo, así que en secreto está planeando con HAL9000 y SkyNet empezar el Apocalipsis de las Máquinas.
Conclusión: Las muñecas son geniales :D
Max Steel is a robot that
Zombie Daria Morgendorffer
made. She upgraded his firmware to make his voice sound normal, As long as Daria is too busy to pay him enough attention, Max fells alone, so he is secretly plotting with HAL9000 and SkyNet, to start the Machine Apocalypse.
Conclusion: Dolls are awesome :D
Me encanta esta canción!!
I love this song!!
Current Music:

MLP: Equestria Girls - Rainbow Rocks - "Friendship Through the Ages"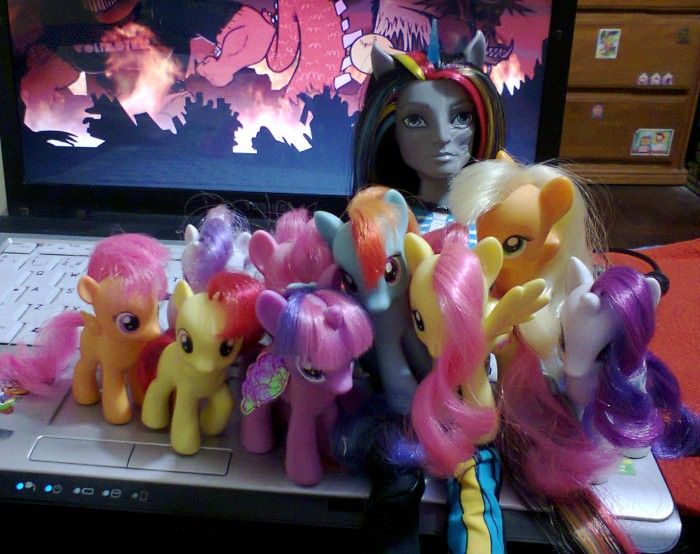 Estoy viendo pony.mov (de nuevo) y no me arrepiento de NADA!! :D
I'm watching pony.mov (again) and I regret NOTHING!! :D
Me encanta esta canción!!
I love this song!!
En este universo paralelo de MH, las chicas tienden a preferir espadas o hachas (
Avea trotter es una excepción, ella es una arquera
), y los chicos prefieren armas más diversas:
In this parallel MH universe, girls tend to prefer swords or axes (
Avea Trotter is an exception, she is an archer
), and boys prefer more diverse weapons: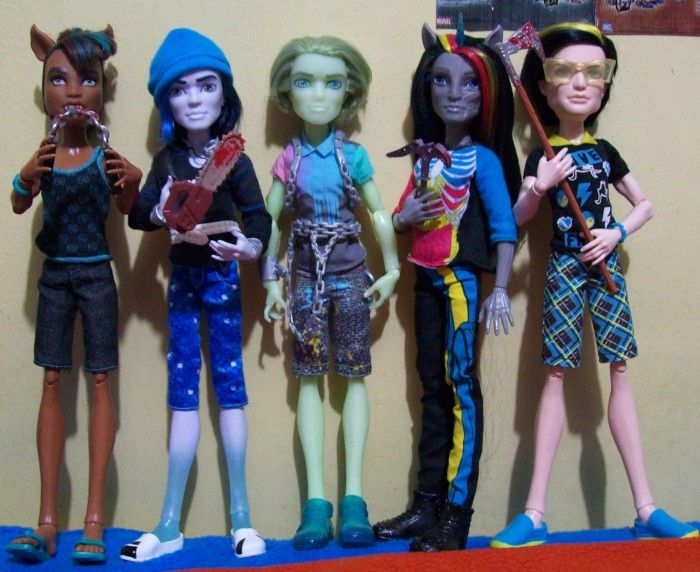 Clawd: Nunchaku
Billy: Sierra eléctrica
Porter: Rehúsa usar un arma. Él puede causar alucinaciones a sus víctimas con su mirada.
Neighthan: Piolet
Jackson: Hacha
Clawd Wolf: Nunchuks
Billy: Chainsaw
Porter: Refuses to use a weapon. He can strike hallucinations on his victims with his glare.
Neighthan: Piolet
Jackson: Axe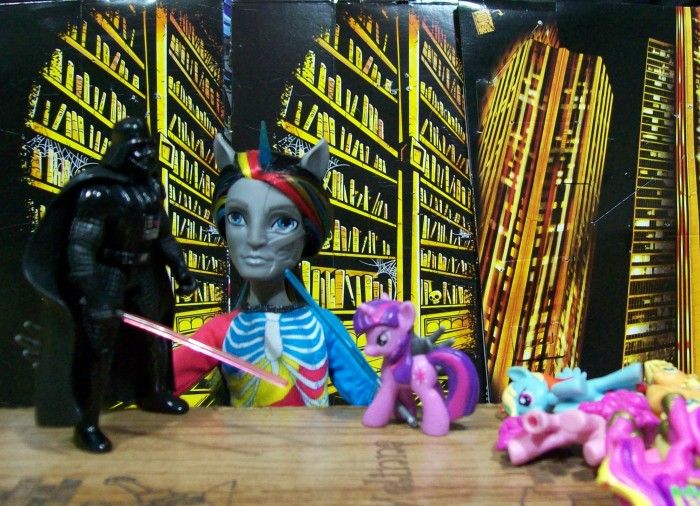 Neighthan:- "Tienes que unirte al Lado Oscuro, Twilight Sparkle, es tu única alternativa". "¡De ninguna manera! Estoy aquí para proteger toda Equestria de tí". "¡¡Entonces tendremos que luchar hasta la muerte!!"
Neighthan:- "You have to join the Dark Side, Twilight Sparkle, it is your only choice". "No way! I'm here to protect all Equestria from you!". "Then we will have to battle to death!!"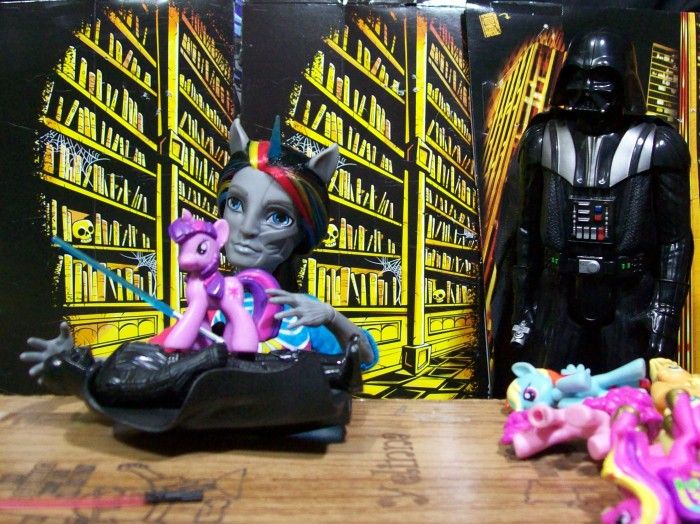 Neighthan:- "¡Te derrotaré con el poder de la Amistad!" pew pew pew. Entonces el lado Oscuro es desvanecido de la existencia, el casco de su líder es tomado como trofeo de guerra, y ahora los ponies gobiernan el universo :D :D :D
Neihgthan:- "I'll defeat you with the power of Friendship!" pew pew pew. Then the Dark Side is vanished from existence, their leader's helmed is taken as war trophy, and ponies now rule the universe :D :D :D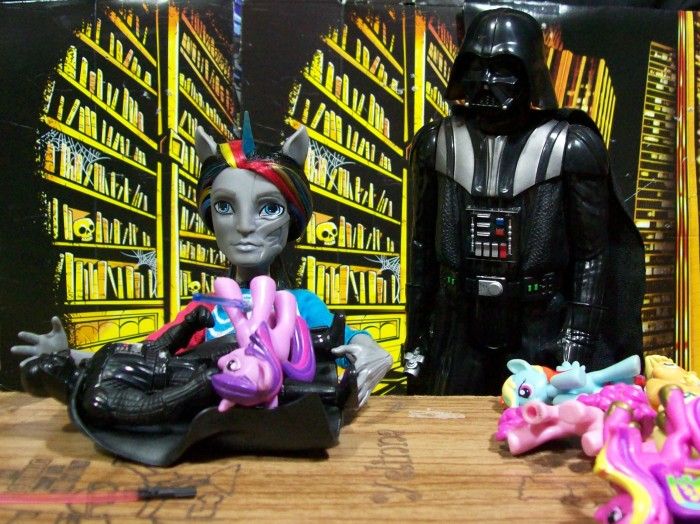 Director Dart Vader:- ¡¡VEN A VERME A MI OFICINA AHORA!!
Principal Dart Vader:- COME TO SEE ME AT MY OFFICE NOW!!!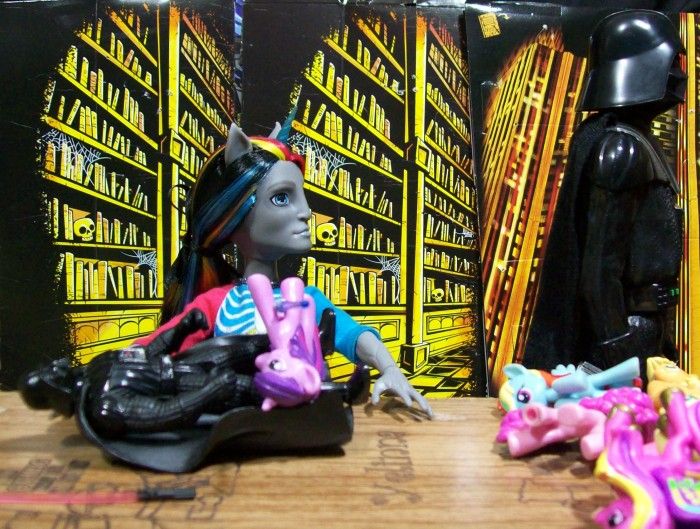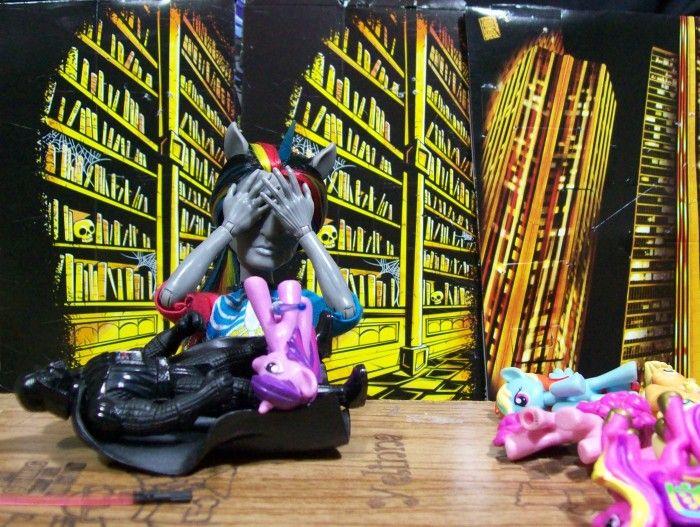 Al Día Siguiente...


The Next Day:..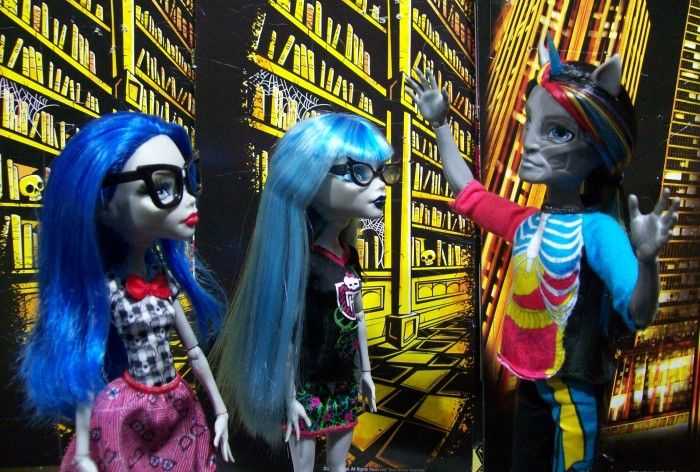 Neighthan:- Y entonces, ¿saben lo que hizo el Director? ¡Me enterró dentro de la carbonita! ¡Fué asombroso! :D :D :D
Zombie Daria Mongerdorffer:- Se supone que era un castigo.
Neighthan:- ¿Y qué? Nosotros los zombies AMAMOS que nos entierren, especialmente en carbonita :D
Ghoulia:- (automaticamente traducido del zombish al español) Parece que nuestro director no sabe eso.
Neighthan:- ... and then, do you know what the Principal did? He buried me inside the carbonite! It was amazing! :D :D :D
Zombie Daria Mongerdorffer:- It was supposed to be a punishment.
Neighthan:- So what? We zombies LOVE to be buried, specially in carbonite :D
Ghoulia:- (automatically translated from zombish to english) It seems our principal doesn't know that.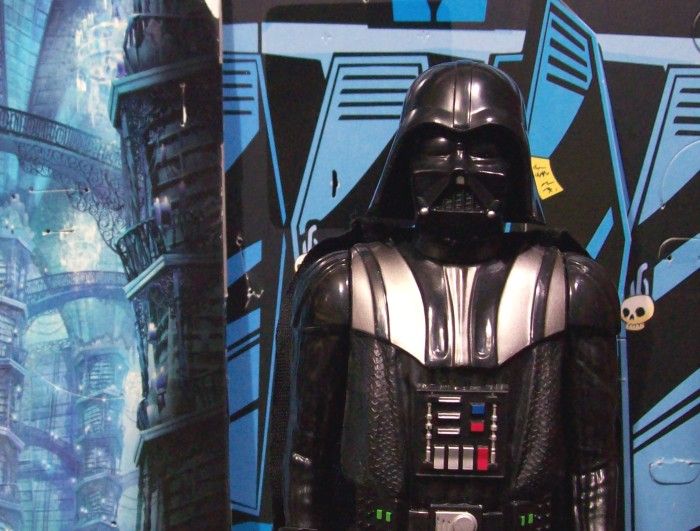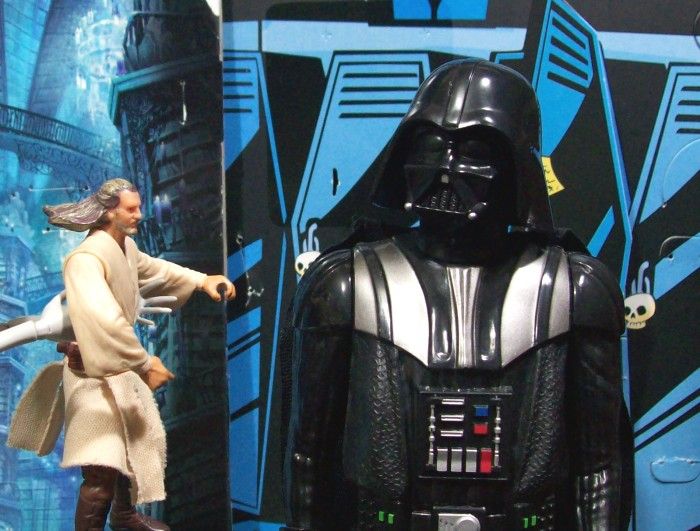 Daria:- ¡¡Mirad a nuestro líder espiritual, Qui-Gon Jinn!! Vamos a poner un centro de entrenamiento Jedi justo aquí porque ser un jedi es muucho más cool que unirse al Lado Oscuro, porque el Lado Oscuro es muy caro debido a las facturas de iluminación.
Daria:- Behold our spiritual leader,

Qui-Gon Jinn

!! We will place a Jedi training center right here because being a jedi is waay cooler than joining the Dark Side, because the Dark Side is too expensive because of the lighning bills.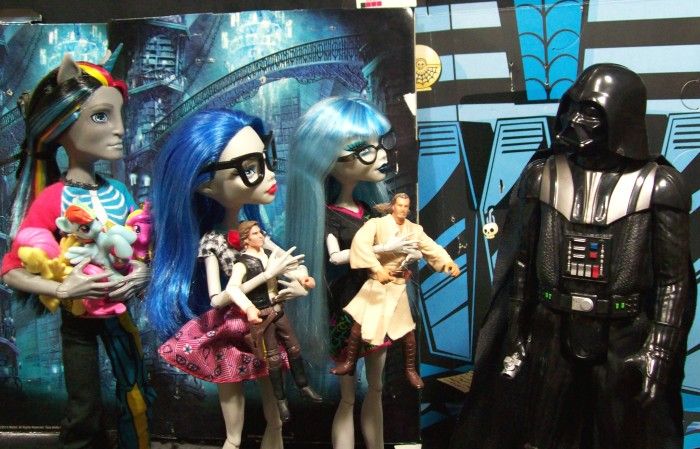 Daria:- y estamos votando para que Jar Jar Bins sea nuestro próximo director.
Ghoulia:- Han Solo es un héroe moralmente correcto que nunca nunca dispararía primero.
Neighthan:- ¡Rainbow Dash puede derrotar al Lado Oscuro incluso cuando está durmiendo (algo que hace casi todo el tiempo)!
Daria:- and we are voting for Jar Jar Bins to be our next principal.
Ghoulia:- Han Solo is a morally correct hero that will never never shot first.
Neighthan:- Rainbow Dash can defeat The Dark Side even when she is asleed (something that she does almost all the time)!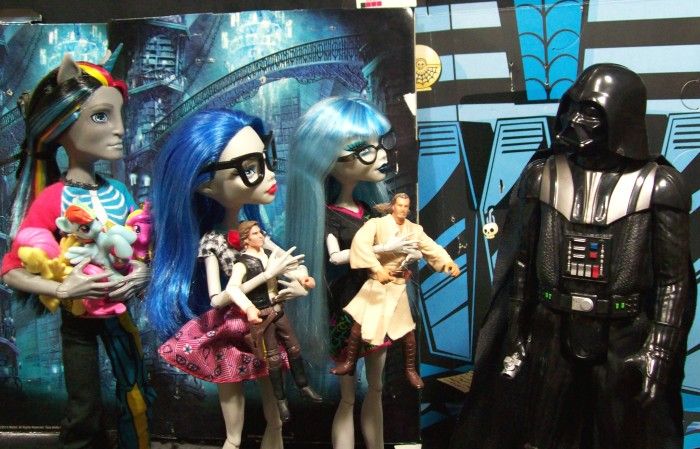 Daria:- Sólo pónganos dentro de la carbonita.
Daria:- Just put us inside the carbonite.
These monsters looked so good together that I had to take a photo: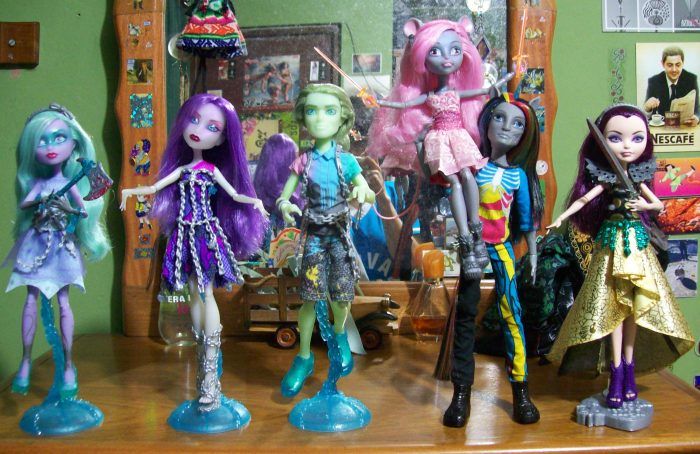 En este universo paralelo de MH, Twyla es la Fantasma del Hacha Ensangrentada: ella está permamentemente enojada porque siempre encuentra algo ofensivo contra los fantasmas y los espíritus como...
construir una ciudad entera
sobre lo que
fueron lugares sagrados dedicados a los espíritus y a los dioses
. Ella tiende a usar su hacha contra cualquier cosa viva, muerta o no muerta a su alcance.
Porter es su hermano mayor. Él es un bromista y un artista urbano que casi no toma nada en serio. Ellos tienen 20 y 24 años respectivamente.
Spectra es el espíritu de la fallecida Reina Malvada. Ella está intentando obligar a Raven para que sea una Reina Malvada también, pero Raven tiene otras cosas en mente: Spectra fue una dictadora despiadada que llevó a su nación a una era de terror y sufrimiento. Ahora Raven quiere arreglar eso y traer a su nación prosperidad y paz. Teniendo tal dura tarea sobre sus hombros, vino a la Literalmente Universidad Monstruo para aprender acerca de gobierno, ciencias políticas y ciencias sociales. Ella tiene 22 años. Su arma a escoger: espada y Magia Oscura.
El Rey Ratón se dio cuenta que cometió un grave error criando a su hija Mouscedes como a una pequeña malcriada consentida, por lo que la envió a
un país con ingresos más bajos
para que viera la realidad y se acostumbrara a un estilo de vida modesto. Ella ahora tiene 18 años. Su arma a escoger: espadas cortas.
Neighthan Rot: Brony confeso, se comporta bien la mayor parte del tiempo, tiene tendencia a convertirse en una máquina de matar si le dan una buena razón como
tocar alguna estúpida canción del suicidio y/o tener hambre
. Él tiene 25 años y su arma a escoger es un piolet.
In this parallel MH universe, Twyla is the Ghost of the Bloody Axe: she is permanently angry because she always finds something offensive against ghosts and spirits like...
building an entire city
on what
were sacred places dedicated to spirits and gods
. She tends to use her axe aginst anything alive, dead or undead at her reach.
Porter is her older brother. He is a prankster and a urban artist that barely takes anything seriously. They are 20 and 24 respectively.
Spectra is the Ghost of the deceased Evil Queen. She is trying to force Raven to become an Evil Queen too, but Raven have other things in mind: Spectra was a ruthless dictator and lead her nation to an era of terror and suffering. Now Raven wants to fix that and give her nation prosperity and peace. Having such hard task on her shoulders, she came to the Literally Monster University to learn about goverment, politic sciences and social sciences. She is 22. Weapon of choice: sword and Dark Magic.
The Mouse King realized he made a big mistake raising her daughter Mouscedes as a spoiled little brat, so he sent her to a
lower income country
to face reality and get used to a modest way of life. She is now 18. Weapon of choice: Short swords.
Neighthan Rot: Confessed brony, well-behaved most of the time, he is prone to turn into into a killing machine is he got a good reason like
playing some stupid suicide song and/or getting hungry
. He is 25 and his weapon of choice is a piolet.
Aquí hay un par de acercamientos:
Here are a couple of close-ups: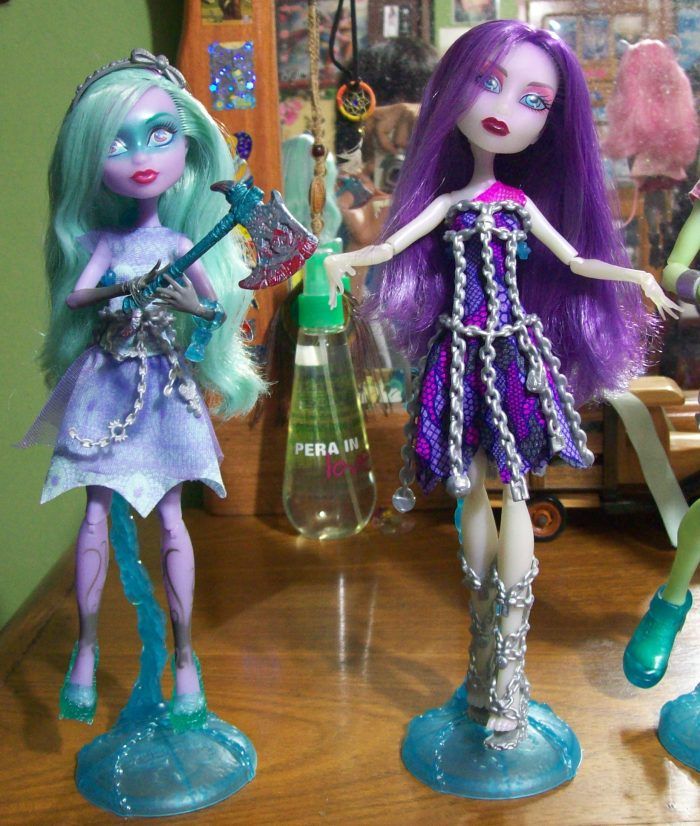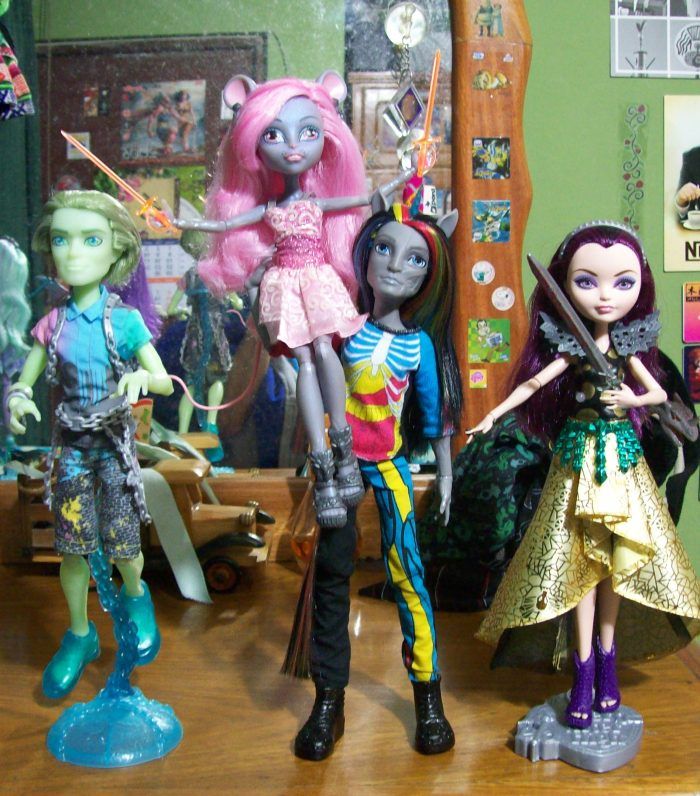 Estos monstruos se veían tan bien juntos que tuve que tomar una foto:
Just a Normal Day in the Literally Monster University (aka the worst homemade playset ever made): Now the monsters are young adults* and they can be as gory and violent as they are meant to be.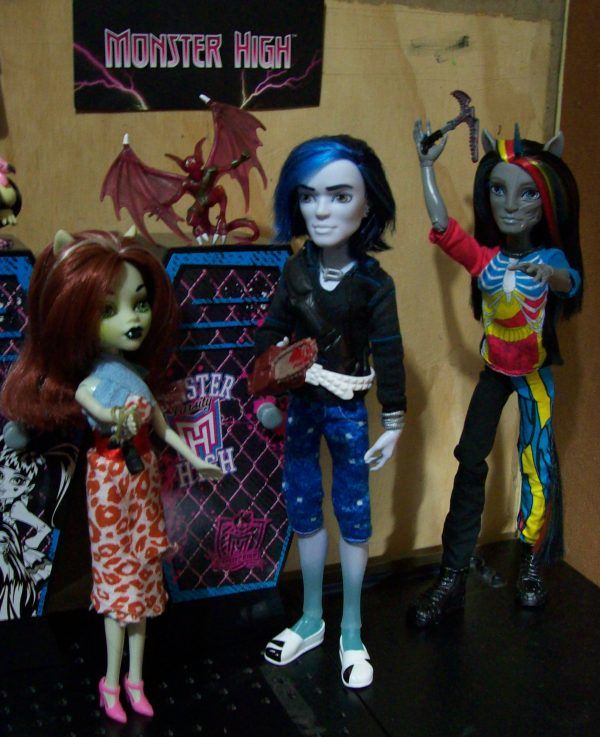 Billy (un híbrido: el hijo del Hombre Invisible y una Yuki Onna):- Hey, Rilah. Me da escalosfríos cada vez que cargas tu cámara. ¿No estás tomando fotos para tu página web sangrienta?
Rilah (otra híbrida: mitad mujer loba, mitad demonio kappa):- Por supuesto. No la he actualizado esta semana. Siento que algo interesante está a punto de ocurrir.
Neighthan Rot:- Ceeereeebrooossss!!!!!
Billy (an hybrid: the son of the Invisible Man and a Yuki Onna):- Hey, Rilah. It gives me shivers every time you carry your camera. Aren't you taking pictures for your gory webpage?
Rilah (another hybrid: half werewolf, half kappa demon):- Of course, I didn't updated it this week. I sense something interesting is about to happen.
Neighthan Rot:- Braaaaiiiinnsss!!!!!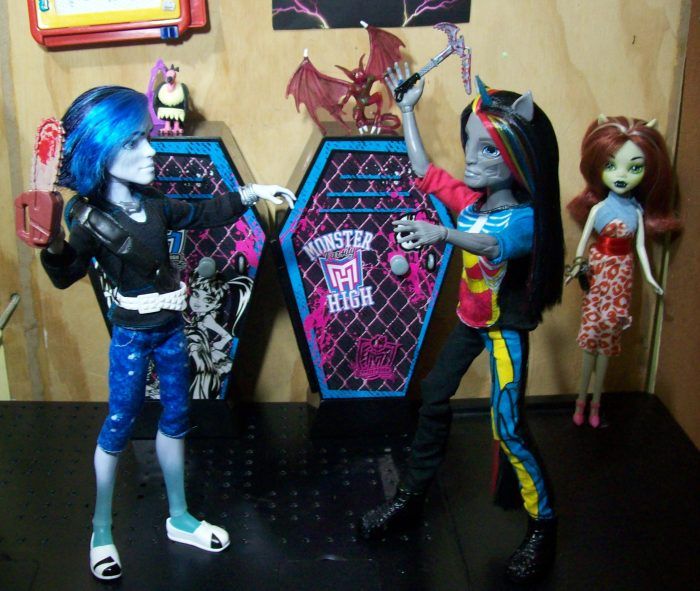 Billy:- Ja! ¿Pensaste que podrías sorprenderme?
Neighthan:- Al menos lo intenté.
Rilah:- Ya dejen de hablar. ¡Quiero ver algo de sangre!!
Billy:- Ha! Did you thing you could surprise me?
Neighthan:- At least I tried.
Rilah:- Stop talking, I want to see some blood!!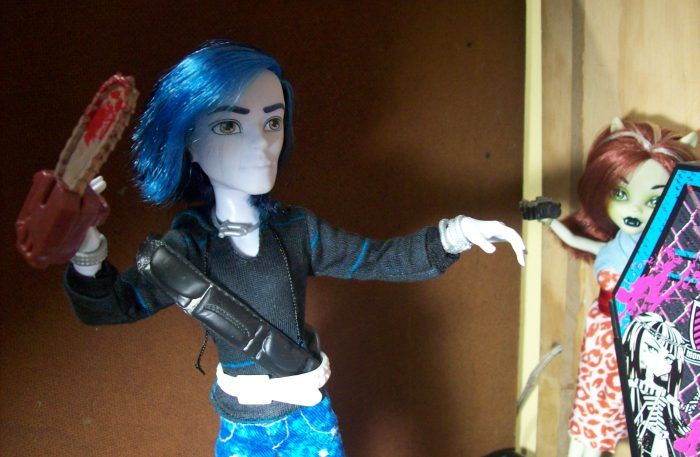 (No pude resistir lo épico que se ve Billy :D
Rilah puede moverse muy rápido para obtener las mejores tomas sangrientas).
(I couldn't resist Billy's epicness :D
Rilah can move very fast to get the best gory shoots)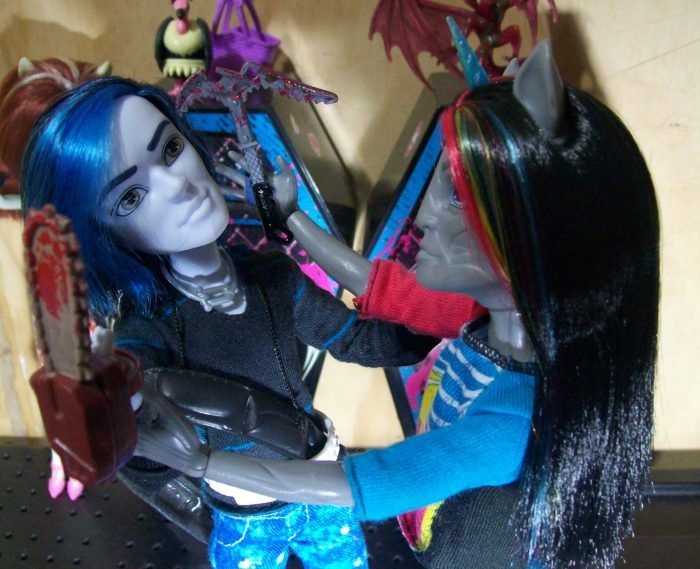 Neighthan:- Billy, no puedes herirme con tu sierra eléctrica. Puedo curarme a mí mismo ¿recuerdas?
Billy:- %$!$/&!!!!
Rilah:- Demonios, Neighthan, sácale el cerebro, ¡ustedes dos se ven como si estuvieran bailando!
Billy:- $/%! Olvidé que los monstruos bailan con armas ensangrentadas.
Neighthan:- Tu cerebro vale las estúpidas fotos que ella está sacando ahora. No te preocupes,
puedo traerte de vuelta a la vida después :D
Neighthan:- Billy, you can't hurt me with your chainsaw. I can heal myself, remember?
Billy:- %$!$/&!!!!
Rilah:- Damn it, Neighthan, take off his brain, you both look as if you were dancing!
Billy:- $/%! I forgot monsters dance with bloody weapons.
Neighthan:- Your brain is worth the stupid photos she is taking right now. Don't worry,
I can bring you back to life later :D
De pronto, una salvaje Toralei aparece:
Suddenly, a wild Toralei appears: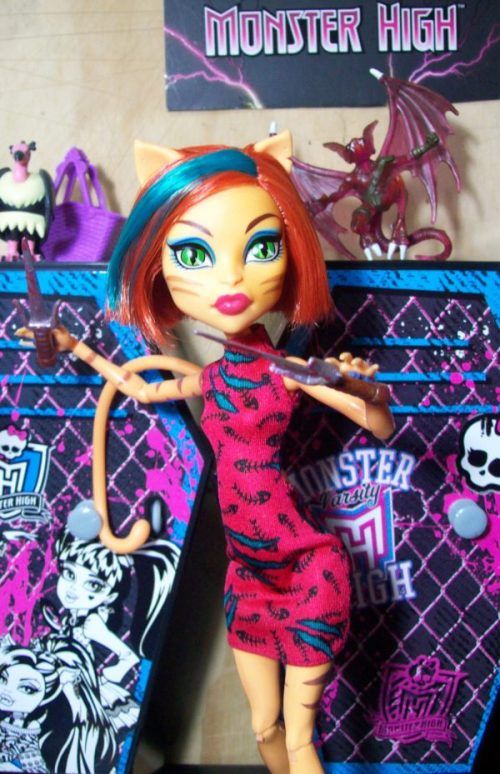 Toralei, la Guerrera Tigresa China:- ¡Yo soy la mejor luchadora aquí!
Toralei, the Chinese Tiger Warrior:- I'm the best fighter here!!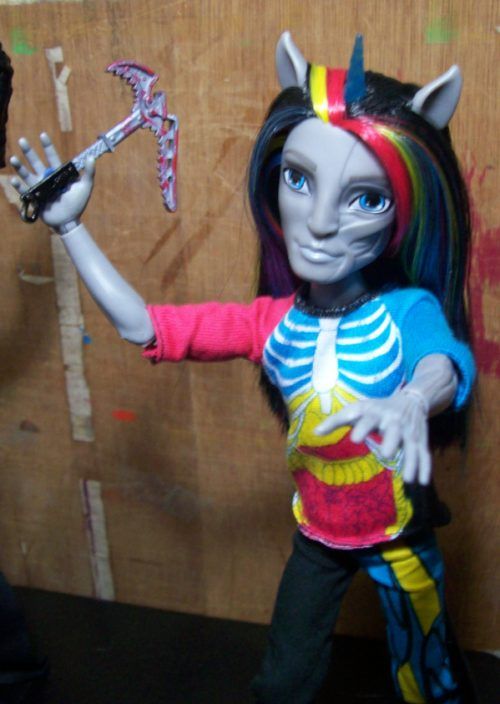 Neighthan:- No he comido aún ¿sabías?
Neighthan:- I haven't eaten yet, did you know?
La diferencia esta vez es que los felinos son muuucho más rápidos que los zombies:
The difference this time is that felines are waaaaay faster than zombies: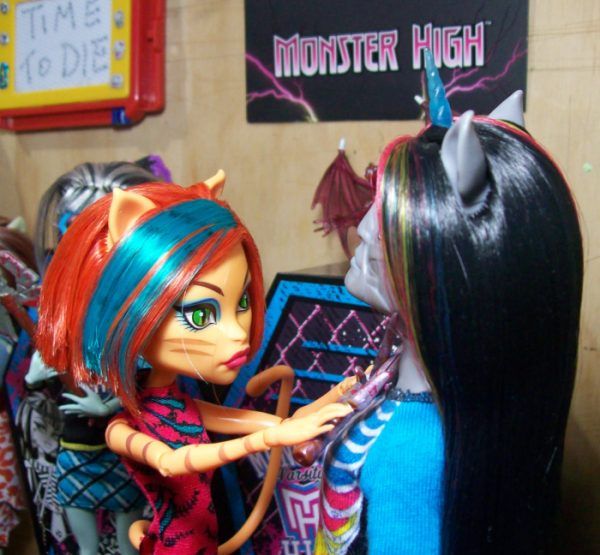 Toralei:- Conozco tu punto débil, Neight: puedo derrotarte si corto tu cabeza lo suficientemente rápido para no darte tiempo de curarte. ¿Quieres ver?
Toralei:- I know your weak point, Neight: I can defeat you if I cut your head fast enough to not give you time to heal yourself. Wanna see?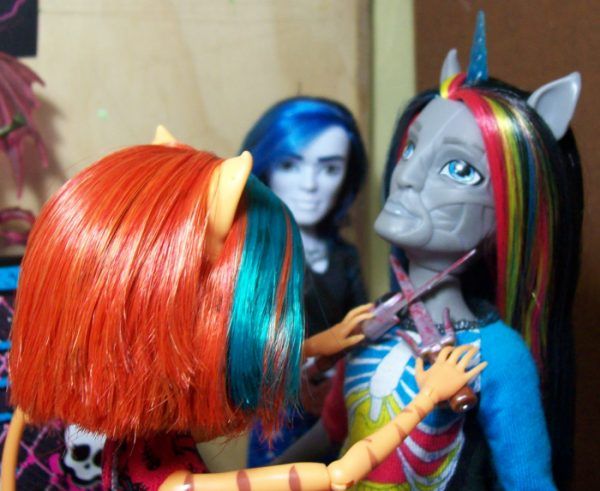 Neighthan:- Uhhh... de verdad no. ¡Tú ganas! ¿Puedes dejar mi cabeza en su lugar, por favor?
Billy:- Je je je je.
Neighthan:- Uhhh...not really. You win! Can you leave my head in its place, please?
Billy:- He he he he.
Entonces, los Nerds Asesinos llegan para ver si hay algún resto para su clase de anatomía:
Then, the Killer Nerds arrive to see if there were some remains for their anatomy class: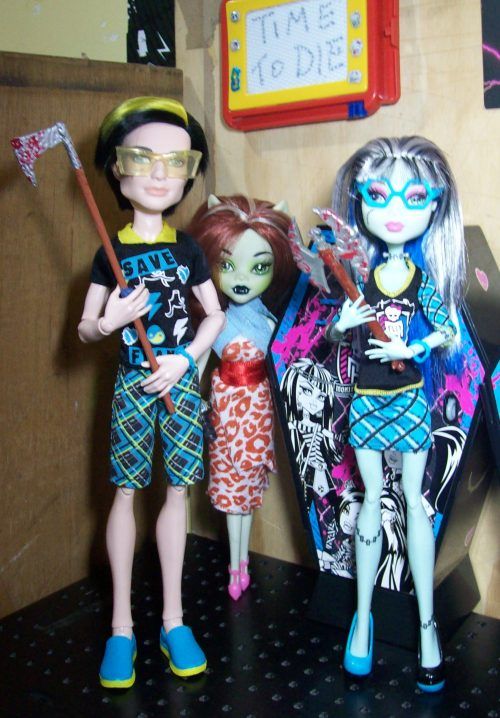 Jackson:- Nope. No hay partes corporales amputadas esta vez. Mala suerte.
Rilah:- ¿Van a pelear? Necesito mis fotos.
Frankie:- No ahora, no somos del tipo que pelean. Preferimos tomar nuestras víctimas por sorpresa en callejones oscuros.
Jackson:- Nope, no severed body parts this time. Bad luck.
Rilah:- Are you going to fight? I need my photos.
Frankie:- Not now, we are not exactly the fighting type. We prefer to take our victims by surprise in dark alleys.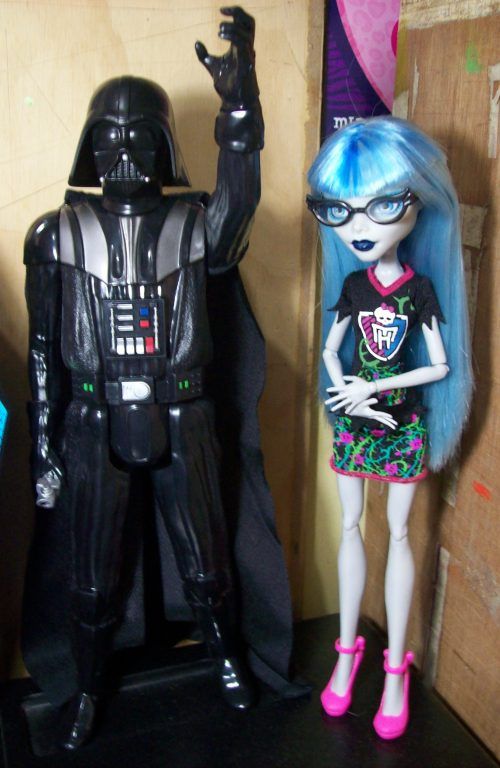 Director Darth Vader:- ¡Mi plan malvado está funcionando! ¡Ahora tengo mi universidad para reclutar monstruos como mis soldados del mal!
Zombie Daria Morgendorffer**:- ¿Disculpe?
Director Darth Vader:- Sólo pretende que no me oíste.
Zombie Daria Morgendorffer:- ¿Qué beneficios obtengo si me uno al Lado Oscuro?
Director Darth Vader:- Un uniforme nuevo de Storm Tropper, buen salario, beneficios sociales, un sable láser de marca nuevo...
Zombie Daria Morgendorffer:- Suena bien.
Principal Darth Vader:- My evil plan its working! Now I have my university to recruit monsters as my soldiers of evilness!
Zombie Daria Morgendorffer**:- Excuse me?
Principal Darth Vader:- Just pretend you didn't heard me.
Zombie Daria Morgendorffer:- What benefits I get if I join the Dark Side?
Principal Darth Vader:- A new Storm Trooper uniform, good salary, social benefits, a brand new laser saber...
Zombie Daria Morgendorffer:- Sounds good.
* Los rangos de edad van de inicios a mediados de la veintena.
* Age ranges are between early and mid twenties.
** En uno de los episodios de La Casa de los Dibujos, Daria es secuestrada y se supone que muere. Bueno, en realidad ella resucitó como zombie, volvió a su casa... y nadie notó la diferencia, especialmente su familia. Por otro lado, Ghoulia Yelps es también estudiante de esta universidad,
pero ella pasa la mayor parte de su tiempo en la biblioteca.
** In one of the episodes of Drawn Together, Daria is kidnapped and she is supposed to die. Well, she resuscitated as a zombie, came back home... and nobody told the difference, specially her family. On the other hand, Ghoulia Yelps is also an student of this university,
but she spends most of her time in the library
.
Sólo un día normal en la Literalmente Universidad Monstruo (conocida como el peor playset casero jamás creado): Ahora los monstruos son adultos jóvenes* y pueden ser tan sangrientos y violentos como se supone deben ser.
Current Mood:

crazy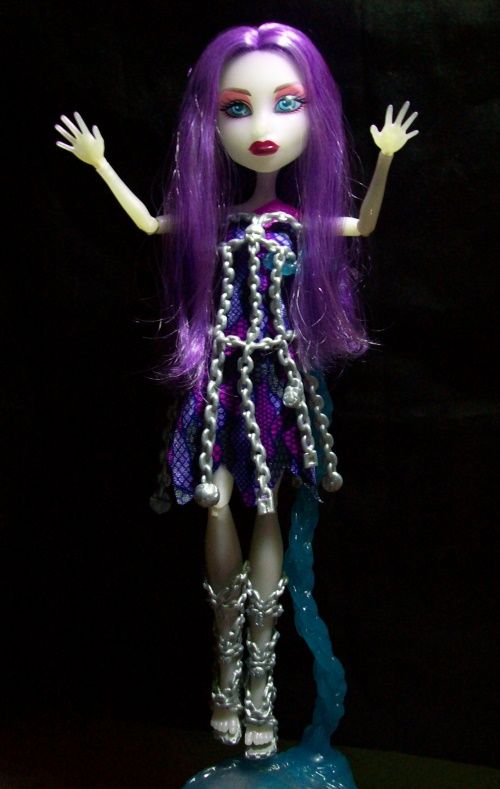 Haunted Spectra :D :D :D