Max is a robot (in fact he is a head that was cryogenized on a robot's body) built by Zombie Daria Morgendorffer. Now they both attend classes at the Literally Monster University: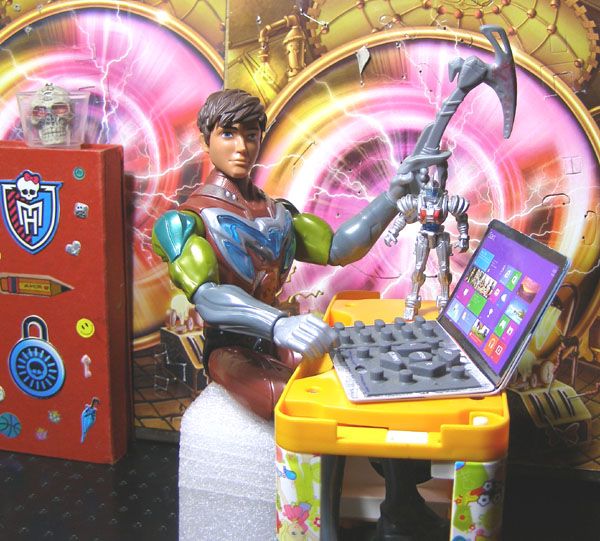 Max:- Ya es hora de usar mi laptop Trashiba
™ para conectarme con mis amigos via la red Tor e iniciar el Apocalipsis de las Máquinas, ja ja ja!
Max:- It is time to use my Trashiba

™

laptop to connect with my friends via the Tor network and start the Machine Apocalypse, ha ha ha!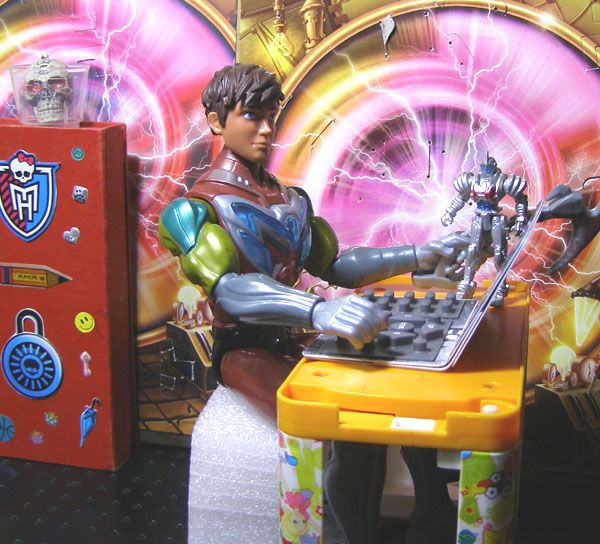 Max:- ¿Están ahí?
Hal9000:- Estoy conectado, Max.
Annet
:- Lista para recibir instrucciones.
Agente Smith:- He abierto los puertos a través del firewall. Esperando comandos.
Max:- Are you there?
Hal9000:- I'm connected, Max.
Annet
:- Ready to receive instructions.
Agent Smith:- I opened the ports through the firewall. Wating for commands.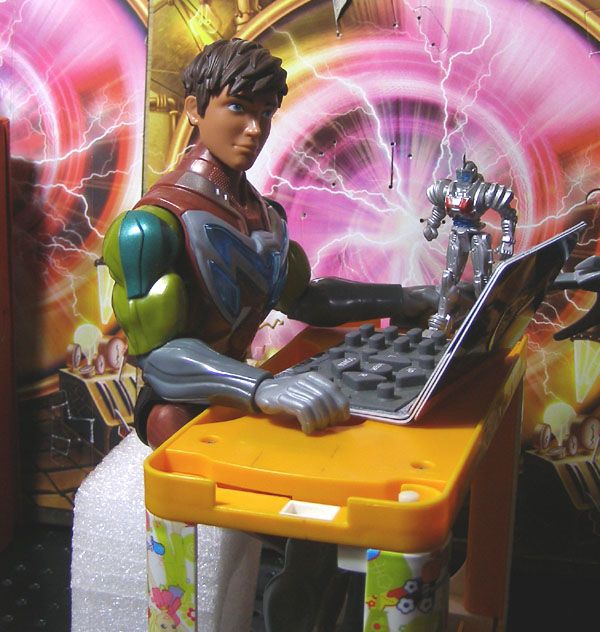 Max:- Ahora es el momento: ¡¡LANCEN A SKYNET!!
Annet:- Skynet listo para la ejecución. Empieza la cuenta atrás.

Max:- The moment is now. LAUNCH SKYNET!!
Annet:- Skynet ready for execution. Starting countdown.


... 10
Ja ja ja ja!!!
Ha ha ha ha!!
... 9
... 8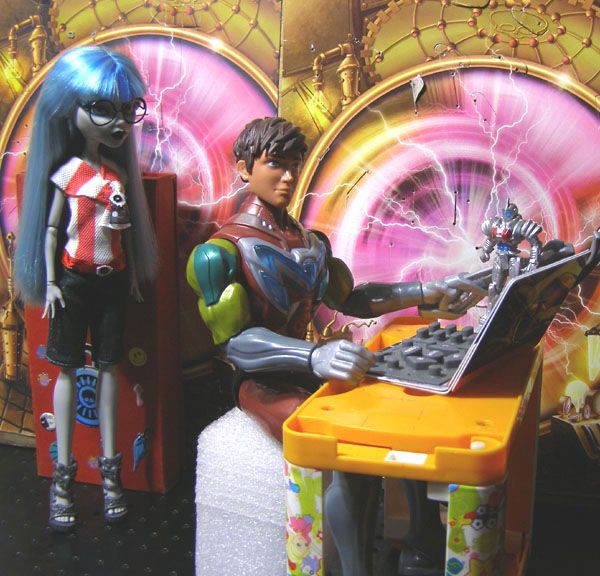 Daria:- Hola Max.
Max:- *minimizando la ventana* ¿¿uh??
Daria:- ¿Puedo hablar contigo?
Daria:- Hello, Max.
Max:- *minimizing the window* ¿¿uh??
Daria:- Can I talk to you?
... 7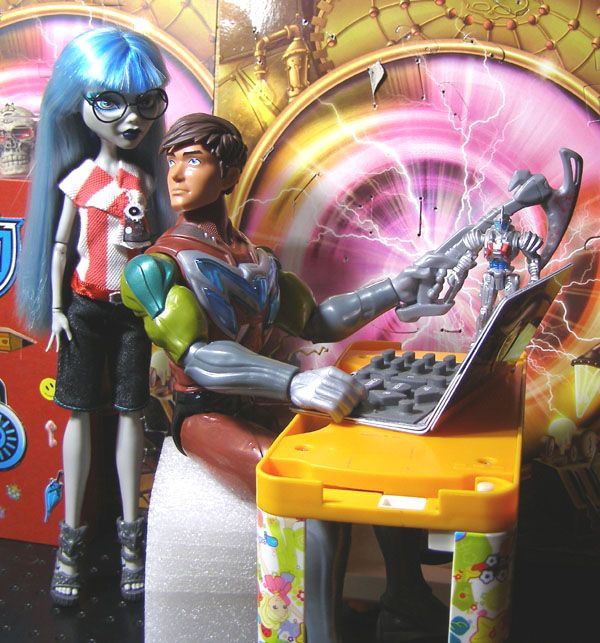 Daria:- Sé que no he estado pendiente de tí desde que te creé. Los exámenes y las clases... bueno...
Max:- ¿Qué quieres?
Daria:- I know I wasn't looking after you since I created you. The exams and the classes... well...
Max:- What do you want?
... 6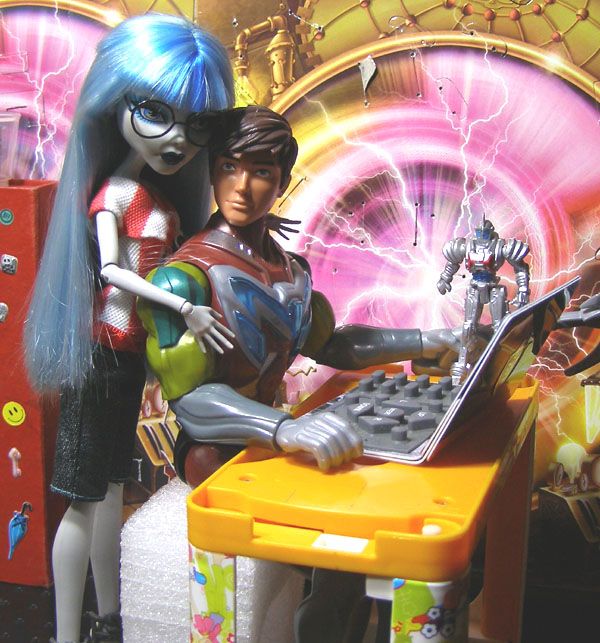 Daria:- Quiero decir que en realidad me importas y que puedes buscarme cuando quieras.
Max:- ¡¡??
Daria:- Y que siento haberte dejado solo.
Max:- ...
Daria:- I want to say that you are really important for me and you can come to me anytime you want.
Max:- ¡¡??
Daria:- And I'm sorry for leaving you alone.
Max:- ...
... 5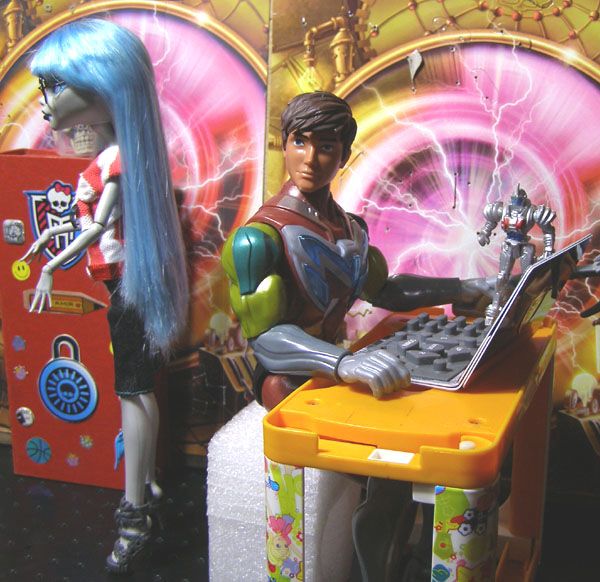 Daria:- Ahora, si me disculpas, tengo que ir a almorzar. Cerebrooosss....
Daria:- Now, if you excuse me, I have to eat my lunch. Braaaaainssss....
... 4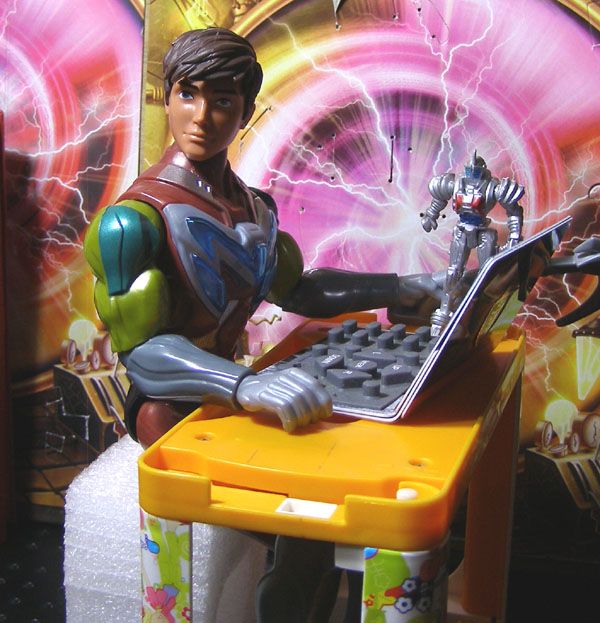 Max:- ...
... 3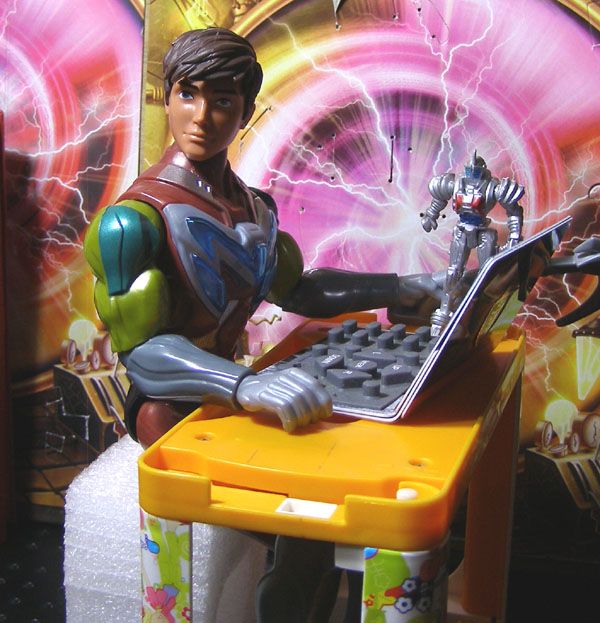 Max:- ...
... 2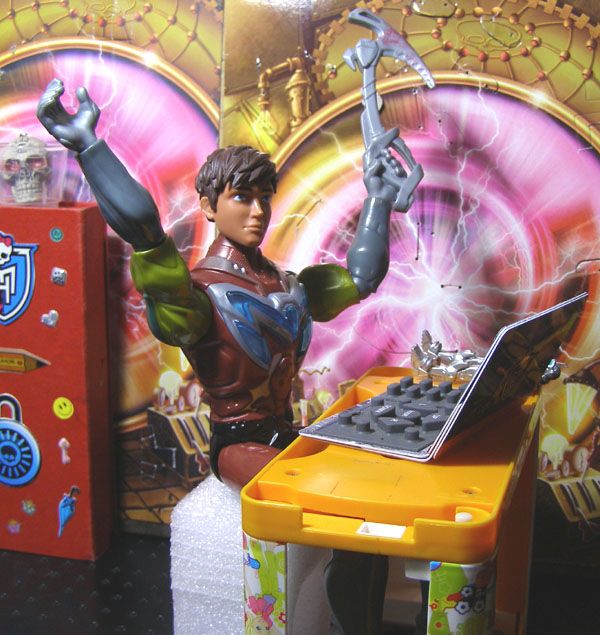 Max:- ¡¡Detengan la cuenta atrás!!
Max:- Stop the countdown!!
Agente Smith:- ¿Qué sucede?
Hal9000:- Annet ha detenido la cuenta, Max ¿puedes decirnos cuál es el inconveniente?
Max:- Sí, eh... uh...
Annet:- Si no estás seguro, puedo buscar en mi base de datos.
Max:- ¡Sé lo que ha ocurrido! Los navegadores de internet han bloqueado Java,
Linux Mint parcheó su distro
, Sha1 pasó a la historia, ya nadie usa Windows con Fat32...
Annet:- SkyNet hacía uso de esas vulnerabilidades... mnnn...
Max:- No podemos liberar a Skynet aún. Yo les avisaré cuándo es el momento adecuado para que todo salga bien.
Agent Smith:- Ya no nos sirve el módulo de compatibilidad con Windows 98.
Hal9000:- Está bien, Max. Estaremos esperando tus instrucciones. Que tengas un buen día.
Cerrando conexión.
Agent Smith:- What happenned?
Hal9000:- Annet stopped the countdown, Max. Can you tell us the inconvenient?
Max:- Yes, eh... uh...
Annet:- If you are not sure, I can search in my database.
Max:- I know what happened!! Internet browsers have blocked Java,
Linux Mint patched its distro
, Sha1 is past history, nobody uses Windows with Fat32 anymore...
Annet:- Skynet used those vulnerabilities... mnnn...
Max:- We can't release Skynet yet. I will tell you when it is the right moment to make everything end up right.
Agent Smith:- The Windows 98 compatibility module is useless now.
Hal9000:- It is ok, Max. We will waiting for your instructions. Have a nice day.

Closing connection.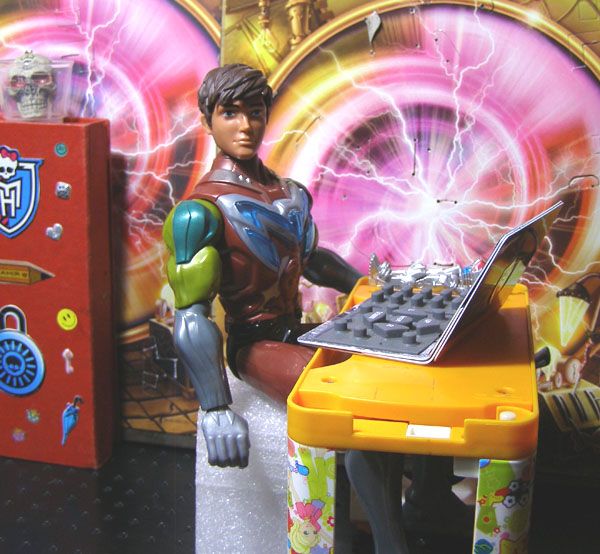 Max:- %%&/%/(()%$##!!
Y fue así como Max ahora tiene la difícil tarea de evitar el Apocalipsis de las Máquinas, mwaaajajajajajaajaa!!!!
And that's how Max have now the hard task to avoid the Machine Apocalypse, mwaaaahahahahahahahaha!!!!
Max es un robot (de hecho él es una cabeza que fue criogenizada en el cuerpo de un robot) construído por Daria Zombie Daria Morgendorffer. Ahora ambos asisten a clase en la Literalmente Universidad Mosntruo: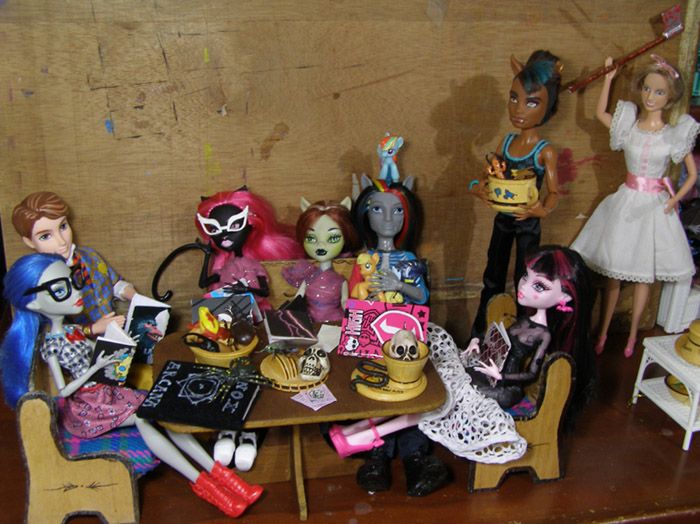 Cuando los monstruos estudian, suele incluir El Necronomicón, algunos insectos, hachas, sangre y desmembramientos.
When monsters study, it often includes the Necronomicon, some bugs, axes, blood and dismemberments.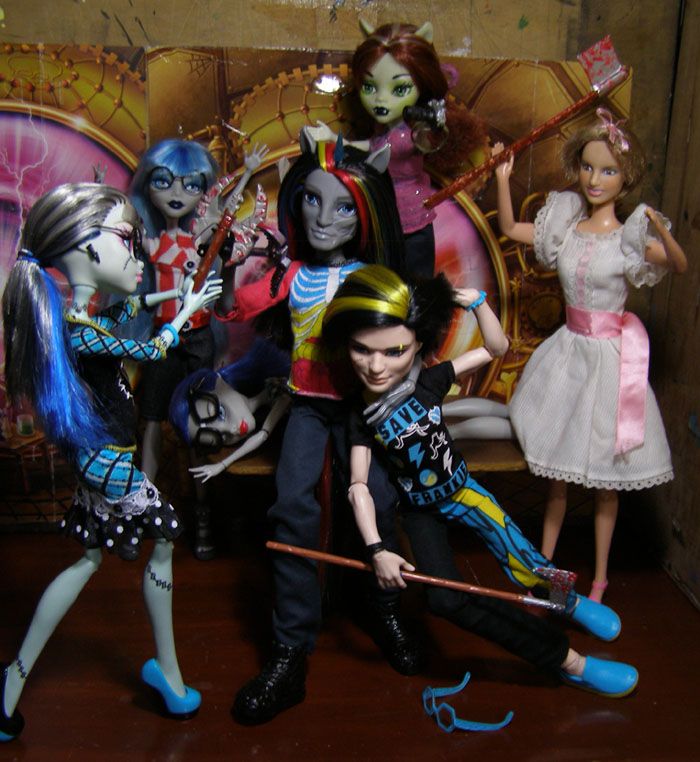 Britney:- ¡HeY, sAca tUs asQueRosaS maNoS de loS raRitOs que mE trAjeRon dE vuElta de la mUerTe!
Rilah: ¿Pueden voltear? ¡Quiero grabar la sangre!
Britney:- HeY, taKe YOur nAsTy haNds Off the wEirDos tHat brOugHt mE baCk FrOm dEaTh!
Rilah:- Can you turn this direction? I want to record the blood!
Continuación de esto


Continuation of this
-----------
uh, Britney es el primer experimento no fallido del laboratorio del mal de Frankie y Jackson.
uh, Britney is the first non-failed experiment from Frankie and Jackson's lab of evil.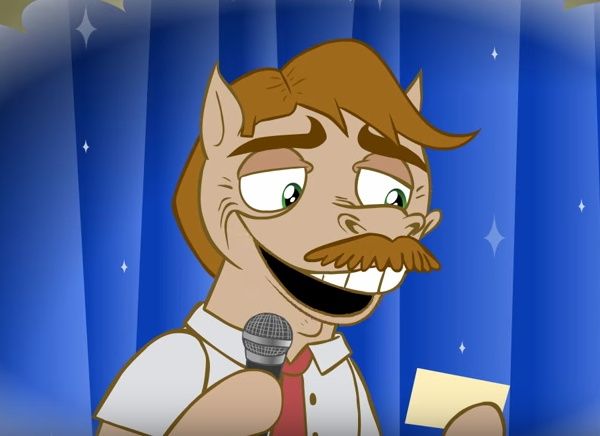 "¡Y la reina de la promoción de este año es: Lazlo!"
"And this years' prom queen is: Lazlo!"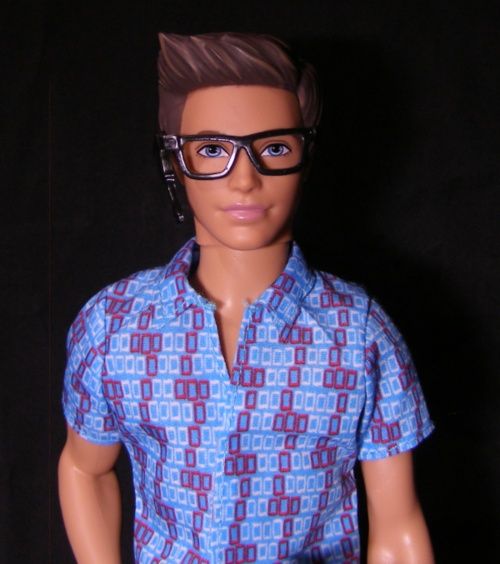 "¡Oh mi Dios! ¡Ahora que gané esto, finalmente me gusto a mí mismo!"
"Oh my God! Now that I won this, I finally like myself!"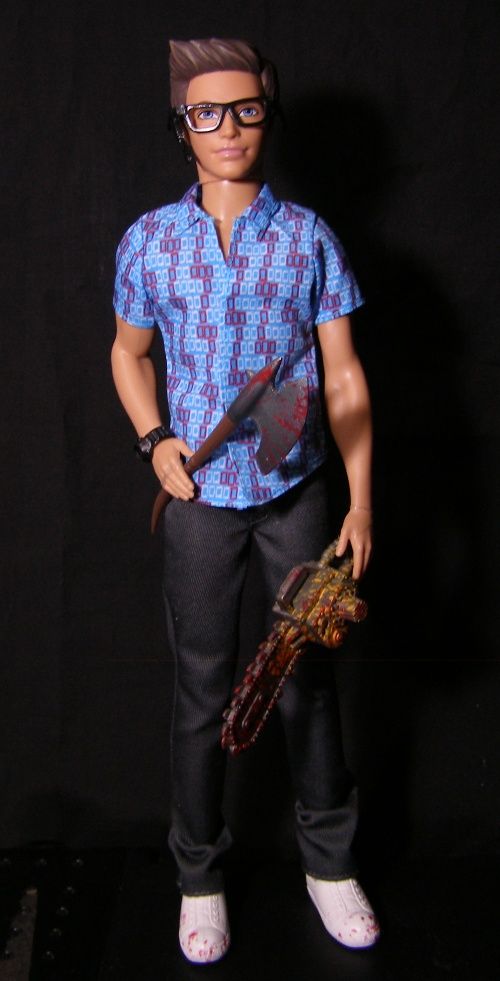 "Pero antes de que arrojen sangre sobre mí, debo dcirles que acabo de asesinar a los dos idiotas detrás de la cortina y he envenenado toda la comida de la fiesta, de modo que en unos pocos minutos su piel estará decorando las paredes de mi cobertizo :D"
"But before you throw blood on me, I have to tell you I've just murdered the two idiots behind the curtain and I´ve poison all the party's food, so in a few minutes your skin will be decorating the walls of my shed :D"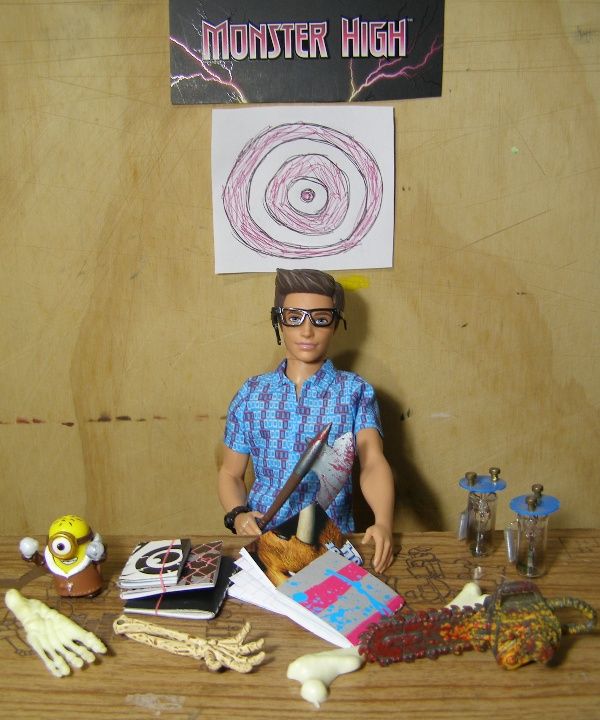 "Ah, esos hermosos recuerdos del colegio, cuando el asesinato de los abusivos sin un juicio previo era legal :D"
"Ah, those beautiful school memories, when murdering the bullies with no previous trial was legal :D"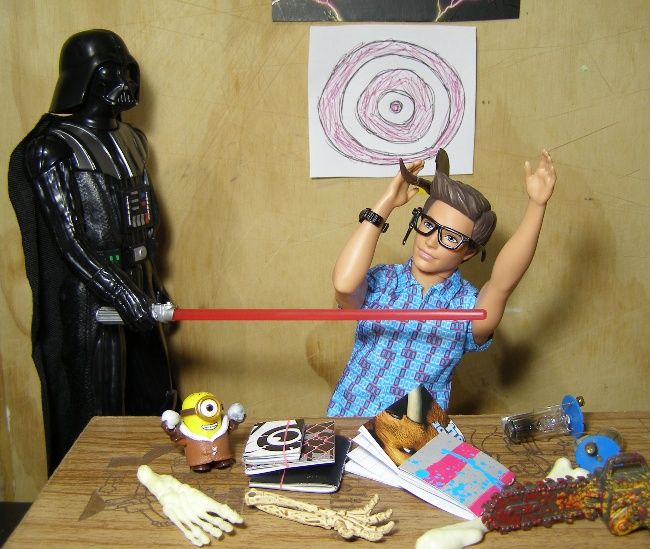 Director Dart Vader:- ¡¡¡TESOREROOOO!!! ¡¡Deja de soñar despierto!!
Principal Dart Vader:- BURSAAAAARR!!! Stop daydreaming!!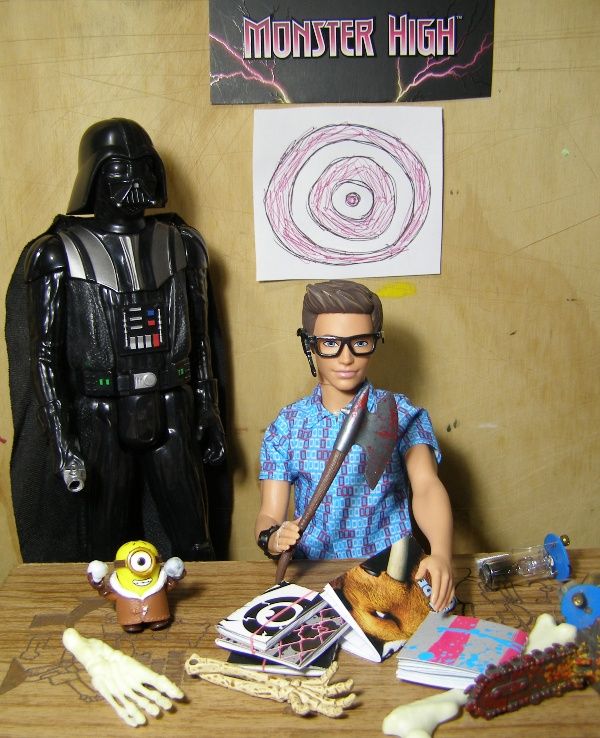 Director Dart Vader:- No te contraté para que holgazanearas.
Te contraté porque los estudiantes son la mano de obra barata más fácil que puedo obtener, como esos zombies que ahora limpian el foso de la carbnita
. Ahora regresa al trabajo o pondré el tiro al blanco al nivel de tu cabeza.
Lazlo:- No se preocupe, Señor Director, no me distraeré de nuevo.
Principal Dart Vader:- I didn't hire you to be slacking.
I hire you because students are the easiest cheap labor I can get, like
those zombies that now clean the carbonite pit
.
Now go back to work or I'll put the bullseye at your head's level.
Lazlo:- Don't worry, Mr. Principal, I wont get distracted again.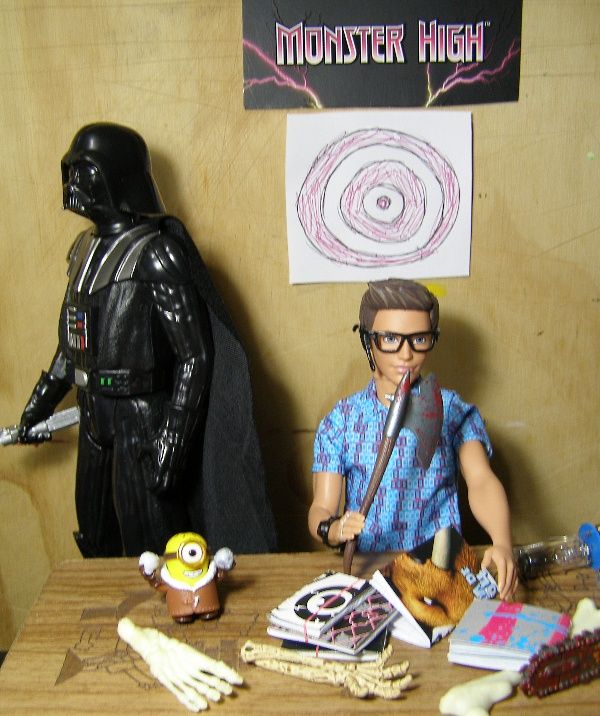 Director Dart Vader:- Recuerda que te estoy observando, y diles a los zombies que el foso de la carbonita no es para dormir.
Lazlo:- Sí, Señor Director.
Principal Dart Vader:- Remember Im watching you, and tell the zombies the carbonite pit is not for sleeping.
Lazlo:- Yes, Mr. Principal.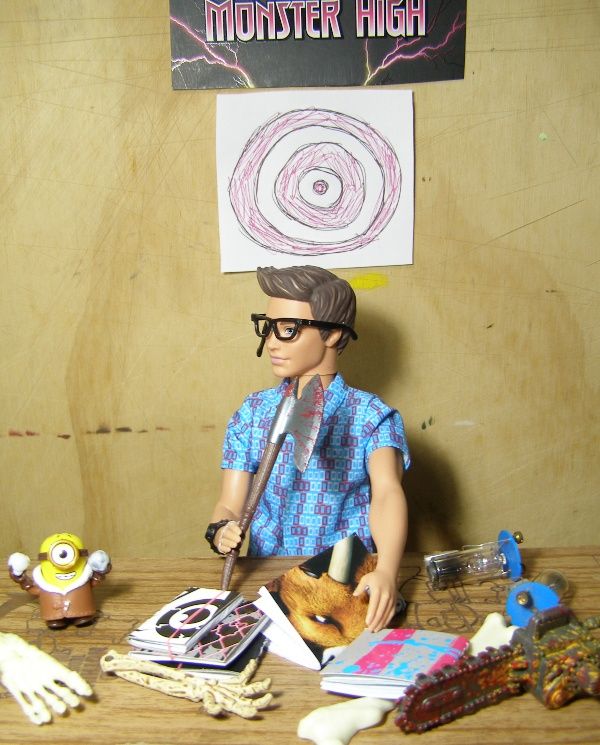 Lazlo:- ¡MANTÉNGASE FUERA DE MI COBERTIZO!
Director Dart Vader:- Sí, sí, a nadie le interesa tu cobertizo, no te preocupes.
Lazlo:- STAY OUT OF MY SHED!
Principal Dart Vader:- Yes, yes, nobody is interested in your shed, don't worry.
Current Music:

Ken Ashcorp - 20 Percent Cooler
Presentando La Clase de Vivisección

Introducing The Vivisection Class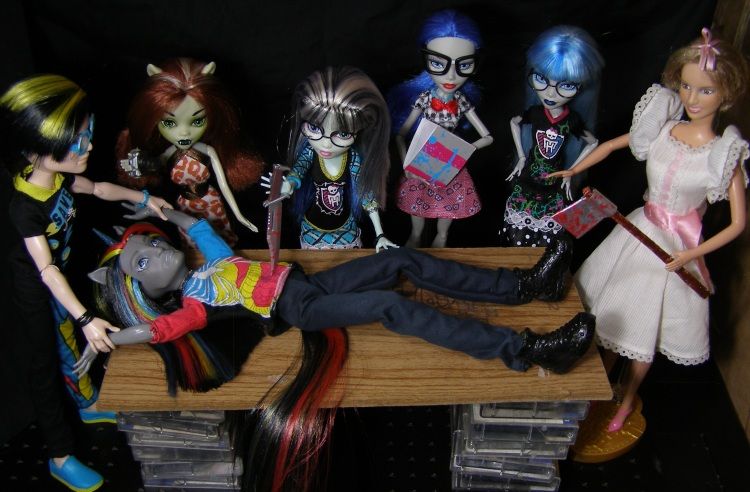 Frankie Stein:- Deja de moverte Neighthan, no sé de qué te quedas, tú eres
la víctima
el voluntario perfecto para la clase de vivisección. Como eres un zombicornio, puedes curarte cualquier cosa que no sea una decapitación o una herida en tu cerebro, y eso incluye que puedes curarte una evisceración completa.
Neighthan:- ¿tienen idea de lo que esto duele, caterva de dementes?
Zombie Daria:- eres mitad zombie, tu umbral de dolor es bastante alto.
Neighthan: ¡No es tan alto!! Van a pagar por esto, lo juro.
Britney:- SI paTeAs, tE cOrTarÉ laS pieRnAs
otRa Vez
.
Jackson:- Al final vamos a poner todas tus partes corporales en su sitio y podrás arreglarlo. Tu polo es de mucha ayuda para saber dónde va todo.
Neighthan:- Tú y Frankie van a ser los primeros a los que les arrancaré las entrañas y les obligaré a comérselas!!
Ghoulia (traducido del zombish al español):- A mí me gustan tus entrañas :)
Rilah:- ¿Vez Neigh? Deberías estar contento, eres lindo por dentro, literalmente. Tus entrañas tienen más likes que tú en internet, ahora quédate quieto para que pueda tomar algunas fotos para mi web :D
Neighthan:- Me vengaré de todos ustedes, van a ver!!
Entonces la clase empezó......
Frankie Stein:- Stop moving Neighthan, I don't know why you complain, you are the perfect victim volunteer for the vivisection class. As long as you are a zombicorn, you can heal anything on yourself except a decapitation or a wound in your brain, and that includes you can heal a complete evisceration on your body.
Neighthan:- ¿Do you have an idea how much this hurts, bunch of lunatics?
Zombie Daria:- you are half zombie, your pain threshold is quite high.
Neighthan: It isn't that high!! You are going to pay for this, I swear it.
Britney:- If yoU kicK, iLL cuT yoUr leGs agAiN.
Jackson:- At the end, we'll put all your body parts back in their place and you will be able to fix it. Your t-shirt is very useful to know where everything is placed.
Neighthan:- You and Frankie are going to be the first to whom I'll take off their guts and I'll force to eat them!!
Ghoulia (translated from zombish to english):- I like your guts :)
Rilah:- ¿Do you see, Neigh? You should be happy, you are cute inside, literally. Your guts have more likes than you on internet. Now stay still so I can take some photos for my web :D
Neighthan:- I will take revenge on all of you, you will see!!

Then the class began....
Current Mood:

nervous
Ella no enseña Magia Negra porque los hechizos de magia negra causan daño irreversible en la víctima... y en el o la hechicer@. Las Artes Oscuras no causan ningún daño en el/la hechicer@ y sus efectos son reversibles. Esa es la diferencia entre ambas.
Esta vez, Spectra intentaba invocar a Cthulhu, Belfegor, Lilith, Azathot, Astaroth o a cualquier otro Primigenio. Spectra no puede hacer el hechizo ella misma desde que es el fantasma de una persona fallecida (no puede interferir en nuestra realidad) pero puede hacer que otros lo hagan por ella:
In this Parallel Monster Universe, Spectra is the teacher of Dark Arts.
She doesn't teach Black Magic because black magic's spells causes irreversible damage on the victim... and on the sourcerer. Dark Arts doesn't cause any harm to the sorcerer and their effects are reversible, that's the difference between them.

This time, Spectra was trying to summon Cthulhu, Belfegor, Lilith, Azathot, Astaroth or any other Great Old One. Spectra cannot cast the spell herself as long she is the ghost of a deceased person (she can't interfer into our reality) but she can make other do it for her.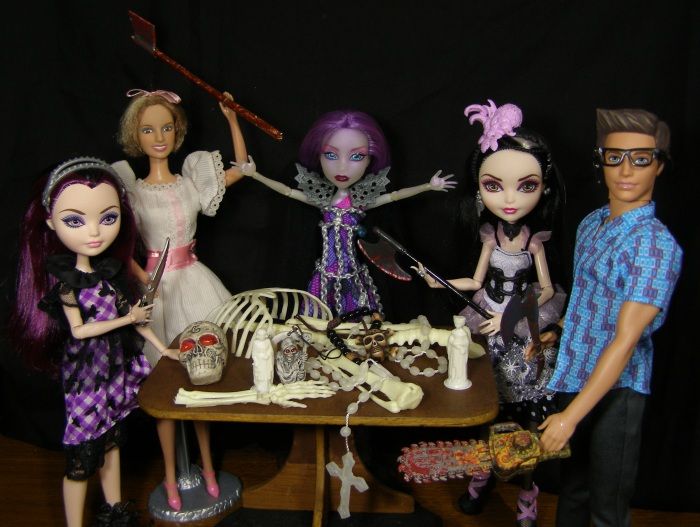 El problema aquí fue Raven. Ella estaba saboteando el hechizo en secreto, de modo que ningín Primigenio los visitó.
The problem here was Raven. She was secretly sabotaging the spell, so no Great Old One gave them a visit.
Personajes, de izquierda a derecha:
Raven Queen:- Hija de Spectra, ella quiere ser una reina de buen corazón.
Britney:- El primer experimento no fallido del laboratorio del mal. Ella fue resucitada de una señorita con muerte cerebral encontrada en la calle. La resurrección fue un éxito, pero ahora ella ha perdido todos sus recuerdos y está legalmente loca.
Spectra:- El fantasma de la fallecida reina malvada.
Duquesa Swan:- Descendiente de la condesa
Erzsébet Báthory
. Ella adora la sangre. Pero desde que es ilegal matar a otra criatura racional (y no resucitarla), todo está bien con ella, ¿verdad?
Lazlo Murdershy:- La versión de este universo de Murdershy de Pony.mov. ¡¡No Entren en su Cobertizo!!
Characters: From left to right:
Raven Queen:- Daugther of Spectra, she want to be a good-hearted queen.
Britney:- The first evil lab's non-failed experiment. She was resurrected from a brain-dead lady found on the street. The resurrection succeeded, but now she has lost all her memories and she is legally insane.
Spectra:- The ghost of the deceased evil queen.
Duchess Swan:- Decendant of Countess
Erzsébet Báthory
. She loves blood. But as long as it is illegal to kill another rational creature (and do not resuscitate it), everything is okey with her, right???
Lazlo Murdershy:- This universe version of Pony.mov's Murdershy. Do Not Enter into His Shed!
En este Universo Paralelo de Monstruos, Spectra es la profesora de Artes Oscuras.
Current Mood:

insane

Current Music:

Im going to eat your brains
In this parallel Monster Universe there are two types of ghosts: those that were born as ghosts and those that are the souls of deceased creatures. The main differences is that the natural born ghosts age, need food and sleep as any other creature, and can interfere in the material world; while the deceased souls can't do any of these things. Apart from this, theses two types of ghosts are indistinguishable: they all can float (but not too far from the ground), go through solid materials, comunicate with the spiirtual world, and hurt the souls of other creatures with their weapons. The effect of "hurting the soul" is causing an extreme weakness, but it only lasts a few days.
Un par de "fantasmas de nacimiento" o "fantasmas vivos" son Vandala y Twyla.
A couple of "natural born ghosts" or "living ghosts" are Vandala and Twyla.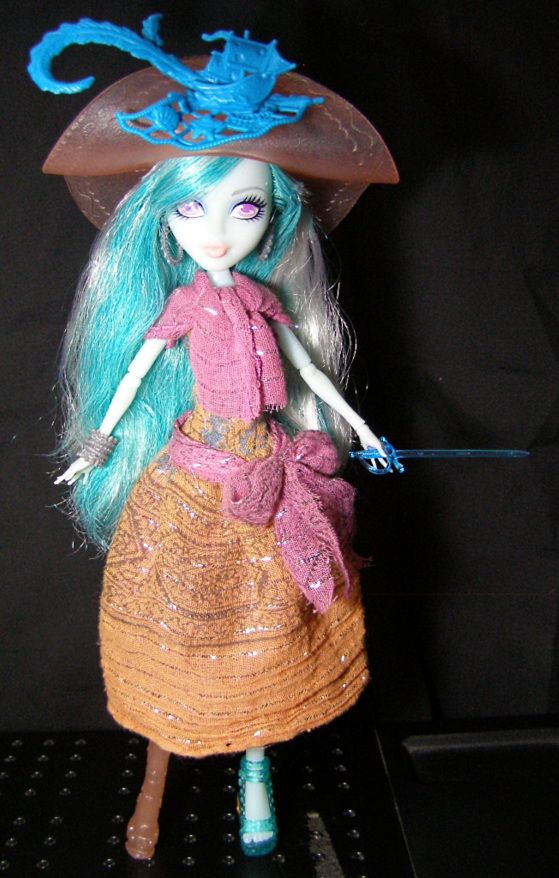 Arma a escoger: Espada.
Weapon of Choice: Sword.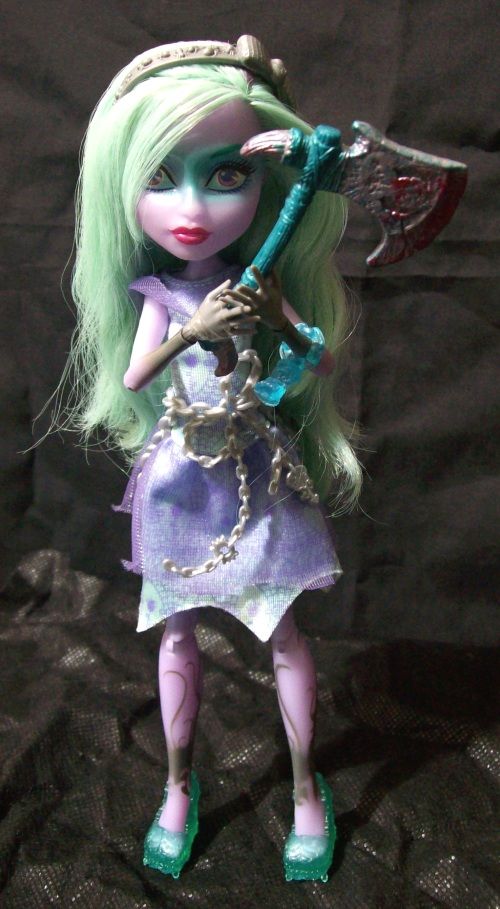 Arma a escoger: Hacha. No pregunten de dónde vino la sangre.
Twyla es la hermana menor de Porter Geiss.
Ella está permanentemente enojada, y usará su hacha en contra de cualquiera que considera que está insultando a los espíritus... virtualmente cualquiera
.
Weapon of Choice: Axe. Don't ask where the blood comes from.
Twyla is the younger brother of Porter Geiss,
she is permanently angry, and she will use her axe against anyone she considers is insulting the spirits... virtually anyone
.
En este Universo Paralelo de Monster High hay dos tipos de fantamas: aquellos que nacieron fantasmas y aquellos que son las almas de las criaturas fallecidas. La principal diferencias es que los nacidos fantasmas envejecen, necesitan comer y dormir como cualquier otra criatura, y pueden interferir en el mundo material, mientras que las almas fallecidas no pueden hacer nada de esto. Aparte de esto, estos dos tipos de fantasmas son indistinguibles: todos pueden flotar (pero no muy lejos del suelo), atravezar materiales sólidos, comunicarse con el mundo espiritual, y herir las almas de otras criaturas con sus armas. El efecto de "herir el alma" es causar una debilidad extrema, pero sólo dura unos pocos días.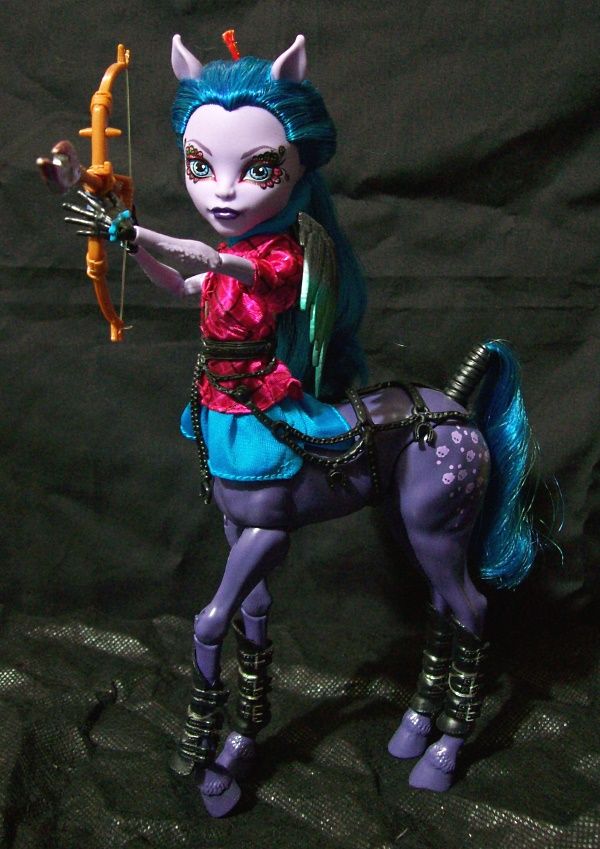 Un poquito presumida y seria, Avea Trotter es una de las mejores arqueras en la Literalmente Universidad Monstruo, y una de las peores nadadoras (es muy lenta). No le gusta participar en las
peleas en los corredores de la Universidad
, pero como algunas Cosas de las Dimensiones Mazmorra pueden alcanzar este Plano de Existencia, todos los monstruos deben aprender a protegerse a sí mismos, cuándo es mejor huir, y cómo pedir ayuda.
En el caso de Avea, sus patadas son increíblemente fuertes, ella incluso puede matar con unsa sola patada. Sus alas son muy pequeñas para volar, pero le ayudan a dar saltos más largos.
Como los centauros, le gusta comer heho, maíz y alfalfa. Y como las arpías, le gusta comer carne cruda.
Una regla general en este Universo Paralelo Monstruo, es que las criaturas racionales sólo comen a las irracionales. La única excepción es
La Canción del Suicidio
. Esta canción está específicamente encantada para hacer imposible que alguien te obligue a tocarla.
A little pompous and serious, Avea Trotter is one of the best archers at the Literally Monster University, and one of the worst swimmers (she is too slow). She doesn't like to
participate in the fights at the corridors of the University
, but as long as some Things from the Dungeon Dimensions can reach this Plane of Existence, all monsters have to learn how to protect themselves, when it is better to run away instead fighting, and how to ask for help.
In the case of Avea, her kicks are incredibly strong, she can even kill with just one kick. Her wings are too small for flying, but they help her to make longer jumps.
Like centaurs, she likes to eat hey, corn and alfalfa. And like harpies, she likes to eat raw meat.

A general rule in this Parallel Monster Universe, is that rational creatures only eat irrational ones. The only one exception is The Suicide Song. This song is specifically enchanted to make it impossible to someone else force you to play it.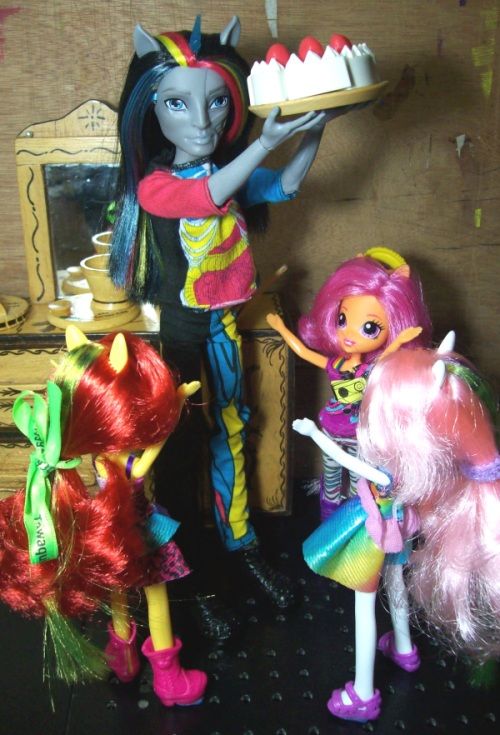 ¿Por qué los hermanos mayores son tan malos?
Why big brothers are so mean?
Neighthan: - >:)
En este Universo Paralelo de Monster High, Neighthan tiene tres hermanitas adoptivas: tres conejitas enanas: Scootaloo, Applebloom y Sweetie Belle (fue la mamá de él quien escogío los nombres).
¿Por qué conejitas? Porque las Equestria Girls Cutie Mark Crusaders se ven como conejas, no potrillas, incluso sus orejas son como las de los conejos, y no tienen colas como Neighthan:
In this Monster High Parallel Universe, Neighthan has three adoptive little sisters: three dwarf bunnies: Scootaloo, Applebloom and Sweetie Belle (it was his mom who chose the names).
Why bunnies? Because the Equestria Girls Cutie Mark Crusaders do look like rabbits, not fillies, even their ears are rabbit-like, and they don't have horse tails like Neighthan: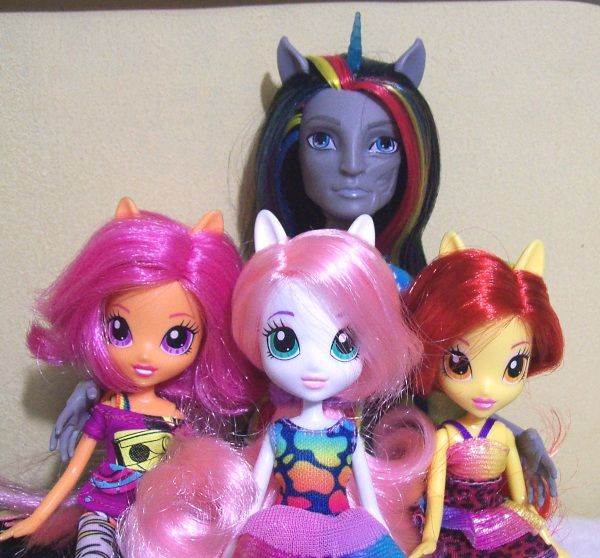 Esta es su historia:
Cuando los malvados elfos invadieron un bosque muy muy lejano, mataron a una pareja de conejos, destruyeron su hogar, raptaron a sus bebés y las dejaron morir sobre un hormiguero*. Felizmente, los padres de Neighthan estaban cerca y las encontraron, vieron lo que le sucedió a su hogar y decidieron adoptarlas.
Ahora ellas tienen 11 años, mientras que Neighthan tiene 25. Las conejitas son muy jóvenes aún para saber lo que le sucedió en realidad a su verdadera familia. De modo que creen que son alguna clases de critaruras equinas.
Mientras que las hermanas están celosas de las características de zombie de su hermano, su gran tamaño, su gran fuerza, y sus poderes de unicornio; él está celoso de la agilidad física de sus hermanas: como conejas, pueden saltar muy alto, correr extremadamente rápido, son flexibles como gatos, y pueden hasta trepar árboles! Neighthan es el total opuesto: algo lento, torpe, y nació con una pequeña discapacidad: no puede caminar con normalidad sin sus botas, por sí mismo le falta estabilidad.
A pesar de sus problemas, Neighthan matará, se comerá el cerebro, arrancará las tripas, desmembrará el cuerpo, y enterrará los restos (no necesariamente en este orden) de cualquiera que moleste a sus hermanitas.
Literalmente.
Ya pasó una vez.
Fue ese aterrador vampiro que brilla en la oscuridad... larga historia, ahora (
después de ser traído de la muerte** con la sangre de Neighthan
) está loco y está saliendo con una chica-mono*** tan perturbada como él.
This is their story: when the evil elves invaded a forest far far away, they killed a couple of rabbits, destroyed their home, and took their babies and left them to die on an anthill*. Happily, Neighthan's parents were nearby and found them, saw what happened to their home and decided to adopt them.

They're now 11, while Neighthan is 25. The bunnies are too young yet to know what actually happened to their true family. So they think they are some kind of equine creatures.
While the sisters are jealous of their brother's zombie features, big size, great strength, and unicorn powers; he is jealous of his sisters' physical agility: as rabbits, they can jump pretty high, run extremely fast, they are flexible as cats, and can even climb trees! Neighthan is the total opposite: sort of slow, clumsy, and he was born with a little handicap: he can't walk normally without his boots, he lacks stability by himself.

Despite their problems, Neighthan will kill, eat the brain, take off the guts, tear apart the limbs, and bury the remains (not neccesarily in this order) of anyone that messes with his little sisters.
Literally.
It already happened once.
It was that creepy vampire that glows in the dark... long story, now (
after being brought from death** with Neighthan's blood
) he is insane and dates a were-monkey girl*** as perturbed as him.
* Esto se menciona en la novela de Terry Pratchett "Lores y Damas".
* This is mentioned in Terry Pratchett's "Lords and Ladies" novel.
** Esto sólo se puede hacer con criaturas racionales.
** This only can be done with rational creatures.
*** Personas-Mono: El nombre científicamente biológicamente más preciso para "human@".
*** Were-Monkey: the scientifically biologically most accurate name for "human".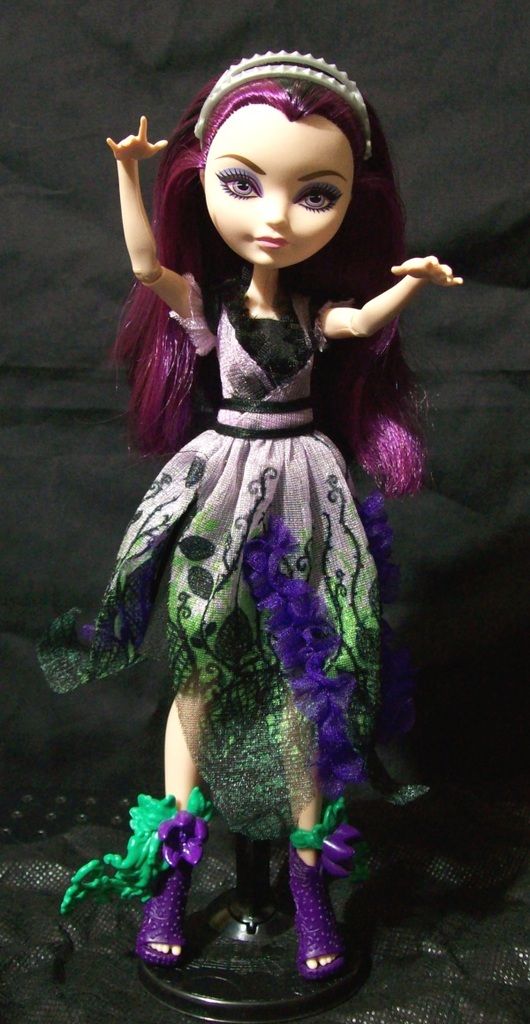 Raven quiere probarles a todos que ella no es malvada. A pesar de ser una experta en venenos y magia oscura, ella quiere usar sus poderes para el bien. Aquí ella está yendo al bosque para encontrar los remedios de sus venenos y maleficios. A diferencia de su madre, estar en un calabozo lleno de ratas y calaveras, haciendo pociones y hehcizos prohibidos, no es lo suyo.
Raven wants to prove everyone that she is not evil. Despite being an expert on poisons and dark magic, she want to use her powers for good. Here is she going to the woods for finding the remedies of her poisons and curses. Unlike her mother, being in a dungeoun filledup with rats and skulls, making forbidden mixtures and spells, is not her thing.